New York — Kobe Bryant and Shaquille O'Neal have the Los Angeles Lakers playing like champions again.
Bryant dazzled New York with an array of drives, jumpers and dunks, and O'Neal overpowered the Knicks inside as the Lakers won, 114-109, Thursday night to enter the All-Star break with a winning record for the first time this season.
"Kobe and Shaq have shown they're the top two dogs in the league," teammate Robert Horry said. "They're carrying us. You have to give the credit to those two guys."
Bryant matched his season high with 46 points, and O'Neal added 33 as the Knicks had no answer for Los Angeles' dynamic duo. Bryant (40) and O'Neal (28) combined to outscore the Knicks in the first three quarters as the Lakers took a 97-67 lead.
The Lakers (24-23) then survived a spirited fourth-quarter rally by the Knicks to end the first half of the season with their fifth straight win, including four on the road.
"That was quite a show the first three quarters," Lakers coach Phil Jackson said. "Shaq and Kobe put on a show tonight. It was a spectacular performance by Kobe tonight."
After a sluggish start left the Lakers 11-19 following a Christmas Day loss to Sacramento, the three-time defending champions have won 13 of 17 to close within 1 1/2 games of Houston for the final playoff spot in the West.
"We just have to keep doing it," Jackson said. "The championship rings don't mean anything unless we do it on the court. We found out the hard way that no one is really impressed by the championship banners."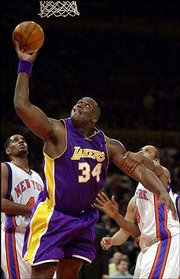 Bryant and O'Neal are a different story.
Bryant has scored at least 35 points in five straight games, scoring 201 points in that stretch. This scoring spree coincides with Jackson telling Bryant to take over more of the scoring load.
Bucks 97, Sonics 91
Milwaukee -- Ray Allen scored 14 of his 27 points in the fourth quarter, sending the SuperSonics into the All-Star break with a three-game losing streak. Milwaukee goes into the break having won 11 of 14 games.
Spurs 83, Nuggets 74
Denver -- Tim Duncan had 25 points, eight rebounds and five assists, and Tony Parker scored 19 of his 23 points in the third quarter as San Antonio beat Denver for its fifth straight win. San Antonio played without center David Robinson, out because of a sore knee.
Copyright 2018 The Associated Press. All rights reserved. This material may not be published, broadcast, rewritten or redistributed. We strive to uphold our values for every story published.