After winning only two football games during his first season as Kansas University's head football coach, Mark Mangino knew his team needed immediate help for 2003.
Mangino said he had found that help Wednesday when he announced a recruiting class of 26 players, including 13 junior-college transfers, on national signing day.
Of the transfers, nine are defensive players.
"We felt as though we needed to get some junior-college talent, and we were successful in that area," said Mangino, whose team surrendered an average of 42.2 points per game. "We decided the most important thing was we need to play good defense, and we decided that we were going to go out and find the best defensive players we can get.
"We feel with the young men that we brought in on defense, coupled with the kids that we have here in the program, we've got a chance to build our defense and be able to stop some people."
Mangino said he expects all the transfers to make an impact. According to rivals.com, the most highly-touted junior-college players in the nation's 33rd-ranked recruiting class are Iowa Central weak-side linebacker Gabe Toomey (6-foot-4, 235 pounds) and Arizona Western College defensive end Monroe Weekley (6-4, 256).
"He is going to be a good player," Mangino said of Toomey, who runs a the 40-yard dash in 4.6 seconds. "He is legitimately 6-foot-31/2, 6-foot-4. He's in the 4.5-range running the 40. That's a Big 12 (weak-side) linebacker, so we're excited about Gabe."
Toomey took a red-shirt his freshman year at Oklahoma while Mangino was an assistant to OU coach Bob Stoops. He later transferred to Iowa Central and was an NJCAA All-American.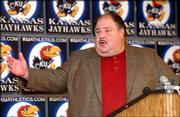 Weekley, who like Toomey has three years of eligibility remaining, took a red-shirt as a freshman at Pittsburgh.
Also among KU's defensive transfers were Zach Mims, a 6-3, 235-pounder who can play end or linebacker, and Chuck Jones, a 6-4, 275-pound All-American from Pasadena City College who can play end or tackle.
Mims originally signed with Arizona State and sat out last year at Hinds Junior College in Mississippi after suffering a shoulder injury.
Mangino hopes Jones and San Bernadino Community College tackle Phil Tuihalamaka (6-3, 323) can bolster a defense that allowed 256.2 rushing yards per game.
"They're both a good grab for us," Mangino said. "They're quality players. They're big strong guys that jump the ball and control the line of scrimmage -- an area, that you know by watching our game, that we struggled with last year."
Jon Kirby of rivals.com said KU's junior-college class might be the best in the country. It also includes one other linebacker, three defensive backs, three offensive linemen and a tight end.
Those defensive backs will try to improve a unit that allowed 216.2 passing yards per game.
Mangino said he originally planned to take eight to 10 junior-college recruits but went for more when he saw opportunities to sign impact players.
He also said it was unlikely his program would ever take this big of a dip into the junior-college talent pool.
"We felt that it was important to get into the junior colleges this year," he said. "This will be the last time we bring in this many junior-college players. We felt it was necessary to do it, and I'm glad that we did. Our players that are in our program now are excited, too because they know that's going to make a little bit quicker impact on our program."
KU's overall recruiting class was ranked 29th nationally by rivals.com at one time, but it slipped into the 40s after a handful of recruits who had given oral commitments to Kansas pursued other schools. Mangino said he revoked scholarship offers to a few players who made campus visits to other schools after giving his program oral commitments.
He also said the efforts of recruiting coordinator Dave Doeren minimized any damage done by players who changed their commitments.
"Dave did an excellent job of making sure that we had a pool of players, an ample pool at every position," he said. "And every one of those players that we evaluated, we felt could help our team. In a couple instances, where we got commitments in certain positions, we continued to recruit that position because you never know what's going to happen.
"As you can see, some kids are going to change their minds. If one of those kids pulled out on us, we had a guy just as good, and in a couple cases better, ready to go. And that's a tribute to our staff and the organization of Dave Doeren. He's done an outstanding job."
Copyright 2018 The Lawrence Journal-World. All rights reserved. This material may not be published, broadcast, rewritten or redistributed. We strive to uphold our values for every story published.