Is the equity in your home going up in smoke?
A growing number of experts worry that this year's record rush of mortgage refinancings, spurred by homeowners seeking savings from lower interest rates, has actually left many in worse shape financially.
The culprit is cash-out refinancings -- when a borrower takes equity out of the home as part of the refinancing. In some cases, experts say, homeowners are left owing more than the home is worth.
Cash-outs have exploded, fueled by rising home values and falling mortgage rates. Freddie Mac, the mortgage underwriter, estimates that during the past two years, more than half of refinancings have been cash-outs -- when the loan amount rises by more than 5 percent.
"It's easy to see how lenders and borrowers could abuse this source of cash," said Mark Zandi, chief economist at Economy.com.
Studies show that the chances of a mortgage default triple when borrowers increase the amount of their balances by 20 percent or more. Citing those figures, Freddie Mac and its sister agency, Fannie Mae, recently announced additional fees for cash-out refinancings.
"They want to make sure people aren't leveraging up too much -- especially in areas of the country where house prices have grown too quickly," Zandi said.
But higher fees may not be enough to dissuade homeowners lured by the equity in their homes, whether it's to put in a new surround-sound system in the family room, pay off other debts or put food on the table after a layoff.
The cash raised in such refinancings nationwide has nearly quadrupled in two years, to an estimated $172 billion in 2002 from $44 billion in 2000. Economists say that cash has boosted consumer spending, which has remained strong despite the economic downturn.
"This helps explain the 'miracle' of consumer spending growth amid declining income levels," said John Lonski, chief economist at Moody's Investors Service.
But Lonski and other experts warn that borrowing against your home and then spending the proceeds can be dangerous in a down economy.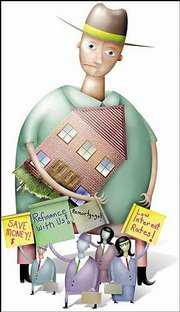 As mortgage rates fell to historic lows, homeowners took advantage of the refinancing boom in a variety of ways. Some were able to go from 30-year mortgages to 15-year mortgages while keeping their payments the same.
Others replaced their 5-year-old mortgages with new 30-year mortgages, putting themselves in the position of taking 35 years to pay for their homes. In addition, many folded the closing costs back into the loan, increasing the amount they owed, albeit at a lower interest rate.
And still others refinanced their loan at a much higher amount and pocketed the difference, taking advantage of the increased equity in their homes from rising prices or upgrades they'd made.
Home improvement
The biggest beneficiary to the cash-out boom has been the home improvement industry. According to a study by Economy.com, 42 percent of borrowers said they were using the cash for home improvements; 30 percent said they would pay down other debt; 28 percent said they would buy appliances, furniture or cars.
Many in the home improvement crowd would like to think that they're not actually losing any equity in their homes.
But experts warn that dollar-in does not usually equate to dollar-out.
Craig Jarrell, president of Dallas' Pulaski Mortgage, says he plays the role of the bad guy when he has to tell someone they've lost a large chunk of the money they poured into home improvements.
"They just don't understand that the 50 grand they've added is worth only $10,000 -- they haven't moved the house itself," he said.
"Did you get a new roof or a new fence? Well, great, so did your neighbor. Were you going to go without a roof on your house?" Jarrell asked. "You're just keeping up with the maintenance on the house. They're things you need and you are going to get a very low return on your investment."
The exception, he says, is an upgraded kitchen or bathroom.
They hold the greatest residual value when the time comes to refinance or sell your home, according to the National Association of Realtors.
Credit-card debt
Many homeowners have taken what seems like the smart financial move of pulling equity from their homes to pay off heavy credit-card debt. They still have the debt, but they're paying it off at a lower interest rate, and the interest now counts as part of the home mortgage tax deduction.
"Let's clean up the old balance sheet and start over -- that's the poster child to use a home equity loan," Jarrell said.
He warned, though, that you need to take a good look in the mirror before approaching that loan officer.
Many people don't take the last step -- cutting up the credit card. If you can't do that, Jarrell says, all it amounts to is "rearranging deck chairs on the Titanic."
Worse, it turns unsecured credit-card debt into secured debt -- if you can't make the larger payments, then you're in danger of losing your home.
"Let's say you are in a financially precarious position. Don't postpone the inevitable with a cash-out," said Jay Brinkman, vice president of research and economics at the Mortgage Bankers Assn. in Washington. He says he's seeing more people pay off credit-card debt with cash-out proceeds, just to run the bills back up again.
If you've suffered a layoff, taken a pay cut or run into some heavy bills, Brinkman says, at some point there may be only one solution: "Sell the house, take the equity out and reduce your standards of living."
Copyright 2018 The Lawrence Journal-World. All rights reserved. This material may not be published, broadcast, rewritten or redistributed. We strive to uphold our values for every story published.