Sunrise, Fla. — By the time Dany Heatley got a mid-game pep talk from Wayne Gretzky, the All-Star rookie had already broken one of No. 99's records and was zeroing in on another.
Heatley had four goals and set up the only other one his team scored Sunday to skate off with the All-Star game MVP award despite the Eastern Conference's 6-5 loss to the Western Conference.
The game was tied after regulation and still deadlocked following a five-minute overtime. The West topped the East 3-1 in a shootout to settle the game. Heatley scored in that event, too, but it didn't add to his total or the final score.
His four goals tied the mark for an All-Star game, held by four others including Gretzky.
At 22 years, 12 days, Heatley became the youngest player with an All-Star hat trick. Gretzky was a day older when he did it in 1983. The Great One visited Heatley between the second and third periods and encouraged him to break the goals record, too.
"It was very meaningful," Heatley said. "It was great to see him."
In just a year and a half in the NHL, the Atlanta Thrashers' forward has gone from YoungStar to All-Star to the game's MVP.
Heatley, who assisted on Olli Jokinen's goal that made it 5-5 in the third period, fell one point short of Mario Lemieux's record of six points in the 1988 All-Star game.
"I was pretty relaxed," Heatley said. "After I got the first one I was pretty happy. After that, they kept going in. I kept cruising around and shooting the puck."
The one thing he couldn't do was win the game, the first NHL contest decided by a shootout.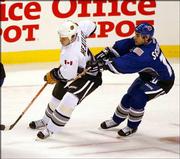 "I think it was good the way it went with the overtime and shootout," Heatley said. "It added a little more excitement."
Heatley became the first All-Star to score four goals since Mike Gartner did it in 1993. Previous four-goal games were by Gretzky (1983), Lemieux (1990) and Vincent Damphousse (1991).
Heatley, last season's NHL rookie of the year, flashed his toothless grin widely after his first two goals. By the time he scored his fourth in the second period, his look was more sheepish than gleeful. His teammates leaned over the bench and expressed delighted amazement.
Heatley, a YoungStars participant last All-Star weekend, wasn't showered with hats or anything else from the subdued South Florida crowd when he slapped in his third goal and tied the game at 3.
In recording points on all the East's goals, Heatley got his team even four times.
He also squared the shootout at 1-all.
Copyright 2018 The Associated Press. All rights reserved. This material may not be published, broadcast, rewritten or redistributed. We strive to uphold our values for every story published.