St. Louis — "I seek dead people."
That's a hobby?
For Ted Steele, it is. He's head of technology for the St. Louis Genealogy Society and an expert on genealogical research using Internet and genealogy software.
That's a relatively new position with the 30-year-old organization. But with the onset of the computer age, genealogists have found a love affair with technology.
On the Web, for example, genealogy is the second-most-researched area after pornography. It's the No. 2 hobby in America after gardening, and the No. 1 year-round hobby. Genealogy makes up about 6 percent of online traffic on the Web, says Rhonda McClure, online columnist for Genealogy.com and author of "The Complete Idiot's Guide to Online Genealogy."
The production of genealogy software has become its own industry. Dozens of programs are available to help searchers find their ancestors, document them properly and put them in the right order. Web sites dedicated to genealogy number in the thousands.
This is why Steele spends most of his time teaching members and visitors at the Genealogy Society offices how to use computers to research their ancestors.
What is genealogy?
Genealogy is the search for ancestors and the details of their lives. The moment you begin the search, you're a genealogist -- with a small g.
The process first involves a search for a name, then the search for evidence linking the name to your family. After that comes validation of the information through records and cross-checking, then mapping each person's place in the family lineage.
You earn your capital G when you learn, through research, how to place every person into a context. This entails showing the life he or she led, their challenges, struggles and sagas. The result is publishing your work in a book or on a CD to share with your family or the public.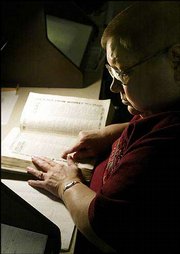 The search for ancestors ostensibly could go back to the primordial Serengeti when human beings first walked upright -- or to Adam and Eve, whichever suits your comfort level. Most people only make it back several dozen generations.
But being able to do this means finding, copying, validating and storing records.
Modern genealogy
Until a decade ago, the term "genealogy" evoked images of older adults sitting in libraries thumbing through page after page of obscure records beneath the dim glow of an antique lamp.
While that's not too far from the process, modern genealogists may be just as likely to gaze into the face of a computer monitor at home, sending search engines to flip through millions of documents in a matter of seconds. Or they may be in a library searching private collections of electronic documents.
"Databases reach in all directions," said Joyce Loving, manager of special collections where genealogy records are stored for the St. Louis County Library. "It draws from a huge collection and comes up with hits you may not have thought of."
In both the traditional and modern means of research, the end product is people--related, connected, from as far back as the centuries can recall, as wide as the cultures and colors of humankind.
And once the job is started, it's never done.
Steele is the perfect example. Nearly 30 years of research yielded the 600-page "A Steele Family History, Planters of Old England, New England and the American West." The chronicle maps 15 generations of Steeles and includes the highlights (and lowpoints) of their lives and the motivations that pushed or pulled them to their destinies.
The work has won numerous awards, and much of the work was done with computers.
And that's just his father's side of the family.
The fun doesn't stop
"You won't know it's fun until you get started, and then you can't quit," said Mary Van Doren, a self-proclaimed newbie at genealogical research.
"It's a combination of history, detective work and discovery," she said. "It's a keyhole glimpse into the struggles and determination of humanity, but brought down to a personal level.
"I've gained an appreciation for my ancestors. They prevailed against war, pioneer poverty, plagues and the early deaths of loved ones."
Steele echoed the experience with an extra twist: "I love my family. I really enjoyed the company of my parents, every aunt and uncle, and all of my known grandparents. They were fun, interesting people. When I was about 33 years old, I got curious about who had come before them.
"I figured that, except for the aspect of time -- my earlier ancestors had all lived and died before I got a chance to know them -- I probably would have liked them, too. So, I wanted to find out who were these guys and what were they like? What were they up to, and why?"
Copyright 2018 The Lawrence Journal-World. All rights reserved. This material may not be published, broadcast, rewritten or redistributed. We strive to uphold our values for every story published.