New Orleans — Matt Mauck, Trey DiCarlo and everyone else playing in the Sugar Bowl hope to have a field day in the big game.
Whether they do might depend on one thing -- the field itself.
LSU and Oklahoma practiced Monday for the first time on the recently installed artificial turf at the Superdome. They wore a variety of shoes, and reported no problems.
But others who have played on it found the new AstroPlay surface a little slippery and a bit tricky.
Atlanta Falcons kicker Jay Feely blamed it for a stumble on a bad miss in overtime on Nov. 16, the first game the New Orleans Saints tried the turf.
DiCarlo was wary that NFL kickers are just 8-for-14 on field goals since the switch.
"I heard they're only making about 50 percent," Oklahoma's kicker said. "Maybe it's got some spell in it."
Dallas Cowboys coach Bill Parcells watched several of his guys trip and tumble in Sunday's 13-7 loss to the Saints. Wide receiver Terry Glenn fell at a key spot in the final two minutes, leading to an interception that sealed the defeat.
"That's their fault," Parcells said."Get some shoes that work. It's simple. Any football player knows that. That's the first thing -- go out and test your shoes every game."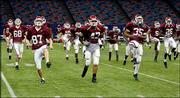 Taking no chances, the No. 2 Tigers and No. 3 Sooners brought an ample supply of footwear for Sunday night's national title game.
Oklahoma rolled into town with about 500 pairs of shoes. For any other game, the Sooners might show up with 200 pairs, director of athletic equipment Greg Tipton said.
"We've got everything imaginable -- cleats, tennis shoes, molded cleats, screw-ins. We've done a lot of research on this field," he said. "I was here about two weeks ago for our advance site visit and spent a lot of time studying it."
LSU equipment manager Greg Stringfellow was equally prepared.
"They've got 500? We have at least that many," he said. "I've got a whole truck parked outside full of shoes. Usually, we might bring 70 or 80 extra pairs."
Like Tipton, Stringfellow has done some advance scouting. He stood on the Superdome sidelines two weeks ago when Memphis beat North Texas, 27-17, in the New Orleans Bowl to see what shoes worked best, and he's also spoken to the Saints' equipment manager.
The Superdome scrapped its 7-year-old turf in November and replaced it with AstroPlay, a darker green surface that its developer says is softer and safer for athletes.
Kansas installed AstroPlay in 2000 at Memorial Stadium.
The Superdome got its new field for about $350,000 -- it usually costs up to $700,000 to install, but the maker was eager to showcase it at the Sugar Bowl. Between the synthetic blades, there are tiny granules of loose black rubber. They're made from crushed, recycled tennis shoes and designed to simulate soil on real grass fields.
"When they first laid it in, you'd see players running and leaving a rooster tail, kicking up those rubber pieces," Stringfellow said. "It's gotten pressed down since then, and it's gotten better."
The Saints played four times on the new surface, and the New Orleans Bowl and several high school games have been played on it.
LSU has similar turf at its indoor practice facility. The Tigers won on an AstroPlay field at Mississippi this season and also won the SEC championship game on a similar surface at the Georgia Dome.
Mauck, LSU's quarterback, has a plan for his footwear.
"I'm going to wear a special cleat that is in between a turf shoe and a regular cleat, which is what Nike makes for this surface," he said. "Some guys are going to wear cleats, but a bunch of guys will wear tennis shoes."
Copyright 2018 The Associated Press. All rights reserved. This material may not be published, broadcast, rewritten or redistributed. We strive to uphold our values for every story published.