Miami — Frank Williams made two buzzer-beaters, Keith Van Horn sank four three-pointers, and even 12th man Michael Sweetney scored in the New York Knicks' most lopsided win this season.
Williams provided a spark in his first NBA start and Van Horn scored 28 points to help the Knicks drub the Miami Heat, 100-80, Saturday night.
"They hit wide-open shots, and they hit shots with hands in their faces," Heat center Brian Grant said. "The next thing you know, it's a 25-point game."
The Knicks scored 13 of the game's first 15 points, then closed the third quarter with an 18-2 run to build their advantage to 83-59. Van Horn scored 17 points in the quarter, including all four of his three-pointers.
Williams, a second year pro out of the University of Illinois, repeatedly slashed through the defense and scored 14 points, including baskets in the final second of the second and third periods.
"Having a guy like that who can penetrate creates great shots for us," coach Don Chaney said.
Van Horn grabbed eight rebounds in 35 minutes and finished 4-for-6 from three-point range. He was only 16-for-68 (.235) previously this season.
"I got some open shots," Van Horn said. "I just put them up and they went down."
Allan Houston added 15 points for New York, which shot 51 percent.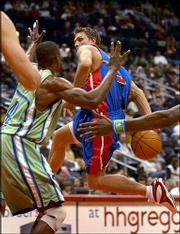 The Knicks came into the game with the fourth-lowest scoring average in the NBA (87.9) and reached 100 points for just the third time when Sweetney made a free throw with 2:13 left. Their previous largest victory margin was 11.
The Heat had won three in a row, and at home they had won five straight. But they shot just 36 percent before a crowd of 16,500, Miami's largest this season.
"To have a crowd like that, even if half of them are New York fans, you want to go out and play better than that," Heat coach Stan Van Gundy said.
The Knicks had seven more fouls than Miami but also eight more rebounds.
"Physically they just manhandled us," Van Gundy said. "We were passive. I don't think we battled."
Lamar Odom scored 25 points for the Heat. They were without rookie starting guard Dwyane Wade, who sprained his right wrist in Friday's victory at Washington. His status is day-to-day.
A jumper by Houston put the Knicks ahead 43-27. Williams scored New York's final seven points of the first half, including a buzzer-beating layup for a 52-42 lead.
"It feels good to start in the NBA," Williams said. "It's a dream come true.
"I just want to show what I can bring to this ballclub."
Chaney declined to say whether Williams will stay in the starting lineup.
"I like what he did tonight," Chaney said. "He got us off to a jump start."
Pistons 87, Hawks 84
Atlanta -- Ben Wallace made two late free throws -- his first points of the game -- and had a block on the next possession. Richard Hamilton scored 28 and Bob Sura added a season-high 13 for the Pistons, who snapped a two-game losing streak.
Jason Terry and Shareef Abdur-Rahim scored 20 apiece but couldn't stop the Hawks from losing for the ninth time in 10 games.
Nets 82, Pacers 75
Indianapolis -- Jason Kidd's 56th career triple-double came one night after his 55th.
Kidd had 16 points, 14 assists and 10 rebounds for his league-leading sixth triple-double, and the New Jersey Nets withstood a fourth-quarter rally.
Kenyon Martin added 23 points and 13 rebounds for the surging Nets, who won for the ninth time in 11 games.
Mavs 104, Grizzlies 98
Dallas -- Michael Finley scored 24 points and Dirk Nowitzki had 18 points and 17 rebounds.
The Grizzlies received a scare when 70-year-old coach Hubie Brown needed medical attention during a timeout with 4:51 left. He recovered quickly and remained on the bench the rest of the game. Coming off a Christmas victory at Sacramento, the Mavs avenged a loss at Memphis earlier this season.
Bulls 100, Wizards 86
Chicago -- Jamal Crawford made five three-pointers and scored a career-high 42 points.
Coming off a 30-point performance at Cleveland on Friday, Crawford outdid himself. He was 16-for-27 from the floor and 5-for-7 from 3-point range.
Larry Hughes had 22 points for Washington and Etan Thomas added 10.
Wolves 104, Sonics 86
Seattle -- Kevin Garnett had 28 points and 14 rebounds and Trenton Hassell shut down Ray Allen on defense. Sam Cassell scored 10 of his 20 points in the fourth quarter, Fred Hoiberg scored 14 and Latrell Sprewell 12 for Minnesota.
Rashard Lewis scored 16 points and Allen had 15.
Copyright 2018 The Associated Press. All rights reserved. This material may not be published, broadcast, rewritten or redistributed. We strive to uphold our values for every story published.