Any unusual clock, especially a design that used neon, is wanted by collectors. The first neon sign was made in Paris in 1910. Neon did not come to the United States until 1923, when a Packard dealership in Los Angeles ordered a large and very expensive sign. But it was not until 10 years later -- when Prohibition ended -- that the era of neon signs really began.
The most eye-catching were neon signs or clocks made for bars. The Aztec neon wall clock, now called a "classic" design, was introduced in 1936, usually as an advertising piece to be hung in bars, offices or shops. The Electric Neon Clock Co. of Cleveland manufactured many of these clocks. The wall clock was made in a variety of color combinations and used green and red neon. The clock face was painted black. Light blue was a popular trim color. The clock is 26 inches in diameter -- big enough to be read from across the room.
The Aztec design, inspired by patterns found on Aztec pyramids, was used on many other decorative pieces from the 1930s to the 1950s. An Aztec clock in working condition recently sold online for $843.
I bought an unusual piece of furniture at an auction 35 years ago. It is a slightly curved bench with a cane seat, but I use it as a coffee table. There's a small metal disk on the bottom that reads "Kittinger-Buffalo."
The Kittinger Furniture Co. is still in business in Buffalo, N.Y. The firm dates back to 1866, when it was founded as Thompson, Colie & Co. By 1885, it was manufacturing furniture and selling it to retailers outside the Buffalo area. Irvine Kittinger and his brother Ralph bought the company in the early 1900s and changed its name to the Kittinger Furniture Co. in 1913. So your bench was made sometime after 1913. Kittinger manufactures high-quality furniture, much of it reproductions of traditional styles. In 1937, the company was given an exclusive license to manufacture wood-furniture reproductions for the Colonial Williamsburg Foundation.
I found a large, heavy woven coverlet when I was cleaning out my grandfather's house. It's red, green and white, with an overall circular feather pattern covering it, and birds and rosebushes around the border. The woven inscription reads "Samuel Slaybaugh, Bucyrus, Crawford County, Ohio, 1848." I believe the coverlet originally belonged to my great-great-great-grandfather, who lived in the Bucyrus area from about 1830 to 1880. How should I take care of it?
Your coverlet is a wonderful family treasure. Samuel Slaybaugh is a known weaver who was born in Pennsylvania about 1819. He and his younger brother, Josiah, were living in Bucyrus by 1845 and worked together from about 1848 to 1855. The "corner blocks" on Samuel's coverlets are all dated 1848 or 1849. The birds-and-rosebush border was a common one during the era of jacquard looms. A jacquard loom used punch cards that automatically selected and pulled threads to make a repeating pattern. Prevent fading by keeping your coverlet out of sunlight and away from fluorescent light. It should be kept clean and free of dust.
When we cleaned out my late husband's boxes of belongings, we came across an item whose date we know -- because an 1897 calendar is attached to it. We just don't know what it is. It's shaped like a chair with a back that's about 3 inches high. The "seat is a small glass bottle with a tin lid. The legs are made of fine twisted silver wiring. Could it be an incense burner or a room deodorizer?
We suspect that what you have is an inkwell. Many different shapes and styles of inkwells were made during the Victorian era.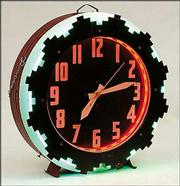 I am a former funeral director and know a little more about the National Casket Co. casket key mentioned in your column. Many 20th-century casket manufacturers presented a boxed casket key to the family of the deceased. So, it is not so strange for a family to possess a casket key.
We talked to an expert at the National Museum of Funeral History in Houston to learn more about casket keys given to families as mementos. We were told that boxed keys were widely used in the funeral business from the 1940s through the 1960s. The lock was either in the middle or at the foot of the casket. Families weren't concerned about body snatchers by the mid-20th century. Casket manufacturers believed that a key gave the family emotional comfort.
Tip
If you buy an old chest with many drawers of the same size, check to see if the drawers slide freely. The drawers might look the same, but they might be in the wrong order. Try other positions, using clues like matching veneer, number, or back or scratch marks.
Current prices are recorded from antiques shows, flea markets, sales and auctions throughout the United States. Prices vary in different locations because of local economic conditions.¢ Reddy Kilowatt ceramic plate, "Servant of the Century," 1960, 6 inches, $30.¢ Sheffield tray, gadrooned edge, engraved rampant lion crest in center, marked with crowned leopard head, crossed keys in shield, 17 inches, $175.¢ Japanese Yusen Shippo cloisonne plate, goldfish in reds to pink, lobsters, turtle, all swimming in seaweed, robin's-egg-blue ground, 12 inches, $200.¢ Marblehead pottery bowl, blue, rounded shoulder, tapering to base, matte glaze, impressed mark, 4 1/4 inches, $265.¢ Felix the Cat toy, wood, jointed, decal on chest, 9-section tail, 1924, Pat Sullivan, 8 inches, $350.¢ Movie poster, "The Champ," Wallace Beery, Jackie Cooper, 1931, 19 x 30 inches, $385.¢ Duncan and Miller berry set, Star in a Square pattern, ruby stained, gold trim, 7 pieces, $410.¢ Invitation to the dedicatid, American girl, dressed in Debutante Ball dress, large aqua bow, fur collar, $1,320.
Copyright 2018 The Lawrence Journal-World. All rights reserved. This material may not be published, broadcast, rewritten or redistributed. We strive to uphold our values for every story published.