A buzz fills the room as patrons enter. Cups clink. Women chatter. Some people sit tucked into corners, engrossed in books and sipping cups of steaming beverages. Others tap busily at laptop computers, iced drinks at hand.
It could be any one of the dozens of coffee shops that monopolize nearly every street corner today. But it's not java they drink. It's tea.
Whether it's chai or red tea, green tea or oolong, the beverage is increasingly replacing coffee in many people's cups. Experts attribute the interest largely to tea's more healthful reputation.
Tea-focused shops are becoming more common, especially on the coasts.
"There are some pretty well-substantiated health benefits, particularly related to the green teas," said Pat Kendall, a food specialist with Colorado State University. More recent research is finding similar benefits with black and red teas, Kendall added.
All three teas contain antioxidants, which, by reducing cell damage, lower the risks of cancer and heart disease, she said. No such health benefits have been found in coffee, Kendall said.
Health benefits
In addition to numerous cancer and heart-disease studies, preliminary research suggests that the ancient beverage might tame bad breath, raise good cholesterol and help with weight loss. And for those leery of the approaching flu and cold season, a recent study found tea effective in warding off those bugs.
Abdulkadir Omar, owner of the Gemini Tea Emporium in Denver, also attributes tea's popularity in part to news about its health benefits.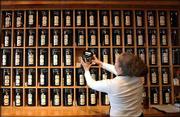 "It's amazing all the research they have done. Now I find out it's going to help my heart; it could help prevent colon cancer. It's great," said Omar, who grew up drinking tea in his native South Africa.
"Iced green tea is one of our best sellers, especially with a splash of pineapple and papaya juice," said Paul Cattin, owner of Pekoe Sip House in Boulder, Colo. "A lot of that is because of the health benefits."
But as the winds grow colder, customers will switch to more calming, hot versions, Cattin said.
Diversity is fueling the tea trend, said Mel Drisko, an acupuncturist with the University of Colorado Health Sciences Center. He prescribes tea extracts in his practice, mostly for skin disorders such as dermatitis and psoriasis.
Most types of tea do have caffeine, though less than coffee, Drisko said. That's one reason he prescribes tea extracts to patients instead of tea. Green tea contains about 30 milligrams of caffeine per 8-ounce serving. A similar serving of brewed coffee contains about 135 milligrams.
Loose or bagged?
The Food and Drug Administration has issued alerts about various teas or tea-like brews over the years, often because of their stimulant properties.For instance, ephedra-based teas are widely available and should be avoided by people with heart conditions, said Mel Drisko, an acupuncturist with the University of Colorado Health Sciences Center."Diet teas" also have prompted health alerts.In September the FDA warned consumers not to buy "teas" brewed from star anise because of 40 illness reports, including 15 infants, related to the drink. Some parents believe star anise eases colic.The illnesses, which occurred during the past two years, ranged from serious neurological effects, such as seizures, to vomiting, jitters and rapid eye movement.The FDA is concerned that commonly available Chinese star anise (Illicium verum), a product considered safe, may contain Japanese star anise (Illicium anisatum), which has long been recognized as toxic in many countries and should be used for decorative purposes only.Because it was unsure what product caused the illnesses, the FDA issued a warning against all types and is investigating.
While there are decaffeinated teas, the less heating and processing done to the tea leaves, the more health benefits they provide, he said. The increasingly popular rooibus tea, a red tea from Africa, has no caffeine, Drisko added.
Tea connoisseurs suggest using loose tea leaves, not the bagged versions, for the highest potential health effect and fuller flavor. The new tea shops sell only loose teas.
Whether tea is loose or bagged, it must be steeped three to five minutes to release the most antioxidants, Kendall said. "That is, quite frankly, longer than I like to brew my tea."
Consumers converting to tea to forgo the coffee jolt should be aware that caffeine content varies widely in teas, depending on type, where it comes from and how it's brewed, Drisko said. Chai, for instance, can have 70 milligrams per serving.
Because the popular mate has a bitter taste, it has to be sweetened, Drisko said. Sugar and milk are added to many of the popular drinks, bumping up calories, Kendall said.
"That's my major concern with both tea and coffee," she said. The calorie content can exceed 400 per serving in these popular drinks.
Consumers also should keep in mind that the teas being touted for their health benefits are not herbal teas, although many herbs have their own benefits, Kendall said.
Copyright 2018 The Lawrence Journal-World. All rights reserved. This material may not be published, broadcast, rewritten or redistributed. We strive to uphold our values for every story published.