Photographer: Mike Yoder
Camera: Nikon D1H digital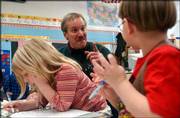 Lens: approximately 35mm
Aperture: f3.2
Shutter speed: 1/160
ISO: 640
We get many assignments to photograph teachers interacting with their students in class. Two difficulties are figuring out where to position yourself so you can anticipate the teacher's moves and trying to blend into the classroom so the students will ignore you and the large camera you are pointing at them.
When East Heights School teacher Chris Cobb sat down with two students, I lowered myself into a position at desktop level and used the two students in the foreground to frame the teacher. Because I was only about two or three feet away from the boy at right, it took a few minutes for him to ignore me and return to his schoolwork. By using an aperture of f3.2, I created a shallow depth of field, keeping the selective focus on Cobb at the center of the frame and less on the children closer to my camera position.
Once this position and framing was established, I waited until an interaction occurred between the teacher and the boy at right so the teacher's face would be directed back toward the center of the frame.
-- "Behind the Lens" is an ongoing weekly series that features an image selected by the Journal-World photo staff that previously ran in the newspaper or online. Wondering how a certain picture was created? Nominate it for "Behind the Lens" by contacting chief photographer Mike Yoder at 832-7141 or myoder@ljworld.com.
Copyright 2018 The Lawrence Journal-World. All rights reserved. This material may not be published, broadcast, rewritten or redistributed. We strive to uphold our values for every story published.