Foxboro, Mass. — The New England Patriots secured the top seed in the AFC playoffs -- and avenged an embarrassing loss to the Buffalo Bills.
In a game of strange coincidences, the Patriots won 31-0 Saturday behind Tom Brady's four scoring passes in the first half and the defense's third shutout in four home games.
That was the score of Buffalo's win over New England in the season opener. In both games, the winner stopped the opponent's final play from the 1-yard line to preserve the shutout. And Brady rebounded from his four-interception disaster in the opener.
"We proved we were a different team than that first day," he said.
The Patriots (14-2) assured themselves of home-field advantage throughout the AFC playoffs. Their best regular season ever gives them a shot at their second Super Bowl championship in three years and made them the second team since the NFL-AFL merger in 1970 to win their last 12 regular-season games. Miami did it in 1972.
Their first playoff game, on the field where they went 8-0 this season, will be Jan. 10 or 11 against the lowest remaining seeded team after next weekend's wild-card games.
"As exciting as it is, you've got to stay calm," linebacker Tedy Bruschi said. "The same things that win in the playoffs won in the regular season."
For the third straight year there will be no playoff berth for Buffalo (6-10). Coach Gregg Williams, at the end of his three-year contract, might not return.
"That's not my decision," he said after the Bills' seventh loss in nine games.
General manager Tom Donahoe said there was no timetable for making that decision.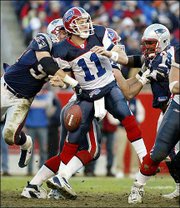 Williams' future seemed safe when the Bills started at 2-0, especially with their impressive win over the Patriots.
"After the way the season started, I couldn't imagine being in this situation," quarterback Drew Bledsoe said.
But that start motivated the Patriots on Saturday.
"If you're a fighter, you're going to come back," New England safety Rodney Harrison said. "Regardless of if you come out and say it, you want revenge."
The Patriots' offense, facing the NFL's second-ranked defense, finally had a big game as Brady threw touchdown passes on three of their first four possessions in a span of less than 16 minutes.
Copyright 2018 The Associated Press. All rights reserved. This material may not be published, broadcast, rewritten or redistributed. We strive to uphold our values for every story published.