Norman, Okla. — Oklahoma had the look of a national champion from the beginning, even though its top quarterback was a wobbly kneed scrambler with only five career starts.
There weren't many people, though, who would have predicted LSU and its hobbled signal-caller would make the hour's drive to crash this year's Bourbon Street bash.
But here they are, brought together by a couple of courageous quarterbacks, the nation's two most dominating defenses and seven computers to play for the Bowl Championship Series national title in the Sugar Bowl on Jan. 4.
In a matchup produced by the BCS' computers, second-ranked LSU will take on No. 3 Oklahoma in a de facto home game for the Tigers. Meanwhile, the people's choice -- No. 1-ranked USC -- will play for The Associated Press title in the Rose Bowl.
The likelihood of a split national title has sparked predictable (and annual) indignation at a system that can't possibly accommodate the championship dreams of three one-loss teams.
"If it were meant for USC to be playing in the Sugar Bowl, they would have had two of them," OU's All-American defensive tackle Tommie Harris said. "We're there because we deserve to be and LSU is there because it deserves to be. There should only be one national champion."
Maybe there will be. USC, of course, still must defeat fourth-ranked Michigan to earn its share of the national crown.
But no one would have doubted the Sooners' credentials if they had played in the Big 12 championship like the team that won its first 12 games by an average of 35 points.
Oklahoma, ranked No. 1 in the preseason for the first time since Barry Switzer's second-to-last team in 1987, placed most of its title hopes on quarterback Jason White.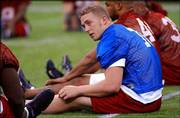 The 23-year-old senior, whose last two seasons ended with knee injuries, overcame doubts about his durability to post one of the best years ever by a college quarterback.
White was the nation's leader in pass efficiency and capped his return by winning the Heisman Trophy, proving to be the perfect complement to the nation's stingiest defense. Together, they made OU look nearly unbeatable.
The Sooners' record-tying, 15-week run as the nation's No. 1 team included a flawless 77-0 rout of Texas A&M; Nov. 8 that started talk of them being one of the greatest teams in college football history.
Instead the myth of Oklahoma's invincibility came to a shocking end following its 35-7 loss to underdog Kansas State.
The Sooners (12-1) were overwhelmed in their biggest game of the season, playing so badly that both human polls dropped them into third place behind USC and LSU. Oklahoma still gained its spot in the Sugar Bowl, but not without plenty of teeth-gnashing by BCS critics.
"For 12 games everybody is enamored with you," coach Bob Stoops said. "But you lose one, and all of a sudden you are somehow supposed to be a fragile team."
Meanwhile, LSU was coming off a disappointing 8-5 season that was capped by an ugly, mistake-filled 35-20 loss to Texas in the Cotton Bowl.
In the offseason, coach Nick Saban wasn't sure he would be able to replace his two top running backs, one of the school's best linebackers and three starting defensive backs.
Making matters worse, 24-year-old quarterback Matt Mauck was handed the starting job even though he was recovering from torn ligaments in his right foot -- an injury that some feared would end his career.
Turns out, LSU (12-1) was every bit the dominant force the Sooners were. The Tigers finished with the nation's top-ranked scoring defense and won their games by an average of 24 points, losing only to Florida.
But no matter how well OU or LSU plays in the Sugar Bowl, the public outcry will be loud if USC wins the Rose Bowl.
Copyright 2017 The Associated Press. All rights reserved. This material may not be published, broadcast, rewritten or redistributed. We strive to uphold our values for every story published.