Matie Grubham says living without medical insurance is "horrible."
"You call a doctor and you say you don't have any medical insurance, so they say you are going to have to pay upfront," Grubham said. "And if you don't have any money, it's like running into a wall."
Grubham, 48, Lecompton, is an unemployed mother of two who has trouble finding work because of knee problems that keep her from standing for extended periods.
She has no medical insurance because she can't afford it. She is poor, but not poor enough to qualify for Medicaid, the government program that provides basic health care for the nation's most impoverished residents.
Grubham's story illustrates a growing problem in Kansas: Insurance rates are rising, and the number of insured Kansans is dropping.
According to a recent survey by the Kansas Insurance Department, 10.5 percent or about 260,000 Kansans lack health insurance. Most of the state's uninsured are thought to be working at small companies that cannot afford the benefit of health insurance for their employees.
"We need to come up with ways for small businesses to be able to provide health insurance to their employees," Insurance Commissioner Sandy Praeger said.
According to Nikki King, executive director of Health Care Access, 1920 Moodie Road, uninsured people tend to be in their 20s to 40s, single parents, and employed. The Health Care Access clinic specializes in treating the uninsured working poor.
Patients there are asked to pay $10 per visit, but the clinic doesn't turn away patients who cannot afford the fee. The most common ailments Health Care Access deals with are hypertension, diabetes and depression, King said.
The clinic is backlogged.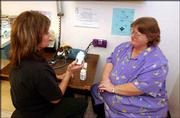 "We are two to three months out for scheduled appointments. We are completely full. We turned people away this past year. In my five years that I have been here, this is a new occurrence to me," King said.
Health Care Access is a lifeline for many uninsured Douglas County residents, including Grubham.
"I felt God really blessed me when I found Health Care Access. They made me feel like a real person. That is the biggest praise I can give," Grubham said.
But not every Kansas town has a clinic such as Health Care Access able to assist people who can't afford $600-$1,000 monthly in health insurance premiums, but have too many assets to qualify for Medicaid.
The cutoff for Medicaid eligibility is 43 percent below the poverty line, which for a family of three is about $14,150 per year.
Company costs
Small companies are having more trouble insuring their employees, and large employers that do provide their workers with health insurance are experiencing rising costs and passing them onto their workers.
Barbara Langner, a professor at the Kansas University school of nursing, said she wanted a system that could provide stability in the market so that employers weren't faced with increasing premiums every year.
To help stabilize rates, Praeger said she wanted to use the larger insured population to develop a reinsurance mechanism. That would help companies cover the costs of insurance for their employees because a larger insurance pool would mean a greater spreading of the costs and risks.
One approach would be to pool small employers together so that the risk of a catastrophic ailment to one employee would affect the larger group less and help stabilize premiums.
While this idea has been tried by previous insurance commissioners, state insurance officials said not many companies joined the pool because it was just too costly.
Studying the problem
The Insurance Department, officials there said, is going to talk to small employers and insurance companies and try to negotiate the prices down to levels acceptable for all parties.
The department has received a federal grant of $185,000 to conduct a study, Praeger said, with help from the KU Medical Center, that would look for ways to halt the trend of growing numbers of uninsured.
The study follows up on a more extensive study that cost about $1.3 million in the past three years. That study sought to understand why small employers still were struggling to provide insurance to their employees. The second part of the study seeks the solution.
Langner will lead the efforts to update survey information about what is known about health insurance in Kansas.
She said many employees of small businesses weren't insured but the number of uninsured people also was rising because of recent layoffs across the state.
"We expect that it's getting worse. People who are more middle-class are losing their insurance because they have been laid off," Langner said.
According to Praeger, the highest rate of uninsured people is in southwest Kansas, an area of the state that has a large minority and immigrant population attracted by the meatpacking plants. Douglas County is below the state average at around 9 percent uninsured.
The followup study is expected to be completed by November.
Copyright 2017 The Lawrence Journal-World. All rights reserved. This material may not be published, broadcast, rewritten or redistributed. We strive to uphold our values for every story published.