Memphis, Tenn. — Memphis senior point guard Antonio Burks is starting to adapt to his role as team leader.
Burks contributed leadership, spirit and 17 points Saturday as Memphis beat No. 11 Missouri, 61-59, the Tigers' third loss in four games.
"I think that's what I need to do," Burks said when asked about running the offense and motivating teammates. "I need to step up when players on the floor are not playing hard. I'm learning the role."
Burks was 7-of-15 from the field, including 3-of-7 from three-point range. Memphis coach John Calipari said the senior was starting to take more control of the game by running the team.
"This team is young, but the catalyst has become Antonio Burks," Calipari said. "I do not want him to be our leading scorer, but the way he ran the club, he tried to get everybody involved."
Sean Banks added 13 points and eight rebounds for Memphis.
Missouri (4-3), which also lost to No. 21 Illinois this week, came within 60-59 on Rickey Paulding's three-pointer with 4.5 seconds remaining. Jimmy McKinney's running shot from just beyond the three-point line as time ran out bounced off the rim, giving Memphis (7-2) its third straight win.
Arthur Johnson, who fouled out with 2:40 remaining, led Missouri with 14 points and 12 rebounds. Paulding and Travon Bryant each scored 13 points. Bryant grabbed 10 rebounds as Missouri controlled the boards, 49-35.
At times, the game was physical with coaches screaming about no-calls and bodies flying under the basket on rebounds.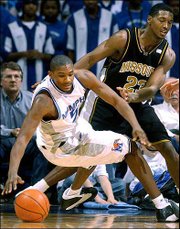 "It came across (on TV), I imagine, as an absolute war," Calipari said. "It was a good victory."
Poor shooting in the first half hampered Missouri. Memphis led 35-26 at halftime after Missouri shot 24 percent from the field (9-of-37). Missouri made just one of its first 10 attempts.
Memphis led by 15 points twice, the first time capping a 12-2 run midway through the half.
"In the first half, we had a ton of opportunities in the paint and could not convert," Missouri coach Quin Snyder said.
Houston 70, Texas A&M; 61, OT
Houston -- Andre Owens scored a career-high 41 points to help Houston overcome a late double-digit deficit and beat Texas A&M; in overtime.
Owens scored a pair of three-pointers and a driving layup in just over a minute to cut Texas A&M;'s lead to 49-47 with 5:15 left.
He tied the game at 51 with 2:30 to go with another three-pointer and made four free-throws in the final minute. His final shot gave the Cougars a three-point lead with 22 seconds left, but Antoine Wright's three-pointer with 9.9 seconds to go forced the game into overtime.
Copyright 2018 The Associated Press. All rights reserved. This material may not be published, broadcast, rewritten or redistributed. We strive to uphold our values for every story published.