Austin Powers would feel right at home in Richard Elioff's groovy Minneapolis pad. Outside, it's a traditional 1920s bungalow, but inside, it's swingin', baby!
Elioff has created a residential time capsule celebrating the mod era in all its bright plastic glory. The op art and pop art. The Lucite. The sleek space-age furniture and accessories. And, of course, the shag carpet.
"I love the way it's so wild-looking," Elioff says of his passion for the '50s, '60s and '70s. "I have every color there could possibly be and I never worry about anything clashing. The more you put together, the better it looks."
The home was conventional when Elioff first got his hands on it 10 years ago. "When I bought the house, it had white walls and chicken wallpaper with a border -- it was country-looking," he recalls.
He soon began transforming it room by room, tapping into his vast collection of mid-century modern lamps, furniture and accessories.
"I've collected stuff for over 20 years," says Elioff, 47. "I've always been a saver. My dad used to go to the dump every week, and I'd go with him."
Elioff's collecting obsession began with '50s lighting, then expanded to other items and later decades. "I used to keep it all. I couldn't sell anything."
But over time, he's learned how to part with his paraphernalia. After a stint in the wholesale music business, he now makes his living selling collectibles online, including rock 'n' roll memorabilia and home items from the '50s, '60s and '70s.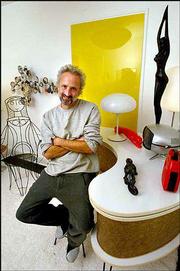 He's especially partial to lamps produced during the '50s by the Moss company of California. "I have 50 of them," he says. Moss lamps are characterized by their use of figurines, typically in exotic costumes and dramatic poses. Some are motorized so that the figurines spin. The distinctive furry shades are made of spun glass. "They had some wild people working there," Elioff says appreciatively.
Wild also describes his dining room, now a '60s-style leisure lounge. The room features geometric print walls and a psychedelic rainbow of glassware, ranging from a hand-blown flame-colored Blenko, worth $100-plus, to a $4 bottle Elioff picked up at T.J. Maxx.
The master bedroom, with its zebra-print bedspread, Lucite-paneled walls and hot-pink sectional, is filled with retro electronics, including a Panasonic Toot-a-Loop radio that twists around the wrist like a chunky plastic bracelet, a vintage red circular TV and its current-day twin from Target.
Elioff's newest room is his early '70s "Mod Room," featuring a kidney-shaped Formica bar, a pair of Risley metal chair sculptures, a pedestal-style turntable and shag carpet that Elioff grooms with a child's rake "to keep it fluffy."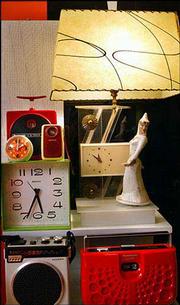 There's only one room that doesn't evoke the past. It's "the eBay room," where Elioff, who trades under the name "trashdaddy," keeps his computer and the packing materials he uses to ship items he sells on the auction Web site. Elioff has his own Web site, www.trashdaddy.com, where he used to sell items, but he currently does all his business on eBay.
But, he says, "it's getting harder and harder to find stuff. So many people do it for a living and are out there looking."
Mod-era items from the '60s are especially scarce, he says, because so many were plastic and considered disposable. "The '50s stuff went to the basement and stayed there. The '60s plastic got thrown away."
There are many reproductions available. However Elioff prefers hunting flea markets and garage sales for the real thing. "For me, the thrill is going out and finding it," he says.
Retro is Richard Elioff's livelihood, but a few of his relics aren't for sale: Moss lamps -- certain ones at least. Elioff has more than 50, and he'll never part with his favorites, he said.What's a Moss lamp? Even if you've never heard of them, to see them is to know their heyday; the lamps have a look that screams 1950s.Distinctive features include futuristic Plexiglass frames, furry spun-glass shades and exotic figurines, many designed by noted ceramic artists of the day.Moss Manufacturing of San Francisco began producing its lamps in 1937, but it's the '50s models that are coveted by collectors. The first Moss lamps were fairly generic, with metal stems and fabric shades. But government demand for steel during World War II prompted a search for new materials and a move to Plexiglass.These modernistic lamps caught the fancy of Eisenhower-era Americans. The lamps were given away as prizes on "The Price Is Right" and appeared in the movie "From Here to Eternity."By the end of the decade, however, the Moss moment had passed. The company tried to recapture consumer interest with a line of ceramic lamps, then ceased production in 1968.Moss appreciation has spawned a coffee table book ( "Moss Lamps: Lighting the '50s") and an online chat group (mosslampsofcalifornia@groups.msn.com).Collectors pay $100 to $600 and up for vintage models in good condition.Source: "Moss Lamps: Lighting the '50s," by Donald-Brian Johnson and Leslie Pina; Schiffer, 2000, $49.95
Copyright 2018 The Lawrence Journal-World. All rights reserved. This material may not be published, broadcast, rewritten or redistributed. We strive to uphold our values for every story published.