Jerusalem — Israeli troops shot and killed a teenage Palestinian and wounded 17 other people Saturday as soldiers and armored vehicles invaded the West Bank city of Nablus in the largest show of Israeli force in the city in nearly a year, Palestinian security officials said.
Meanwhile, in response to another military action, the Israeli military chief of staff, Lt. Gen. Moshe Yaalon, said Saturday that he had ordered an investigation of troops who opened fire Friday on Israeli and international activists protesting a separation barrier Israel is building around the West Bank. An Israeli man was seriously injured and an American woman was slightly wounded in the incident, Israeli officials said.
In Nablus, Palestinian security officials said soldiers shot a teenager in the back during one of dozens of clashes between tanks and other Israeli armored vehicles and groups of boys and young men hurling stones and Molotov cocktails.
An Israeli military spokesman who declined to be identified by name said the reported killing was under investigation and described the operations Saturday as "pretty routine, pinpoint activities" intended to arrest wanted militants. He said no militants were arrested Saturday.
At midday a Nablus resident reached by telephone said, "Clashes are taking place all over the city. The whole city is a battlefield."
Witnesses said tanks and soldiers operated throughout the city, often opening fire on groups of men and boys who ran into the streets and alleyways and threw stones and bottles of explosives. Tanks established road blocks that sliced the city in half, blocking civilian travel from one side of the city to the other, witnesses said.
The Israeli spokesman said that the military operations were part of ongoing searches for militants that began early last week and that the show of force was not retaliation for the suicide bombing at a bus stop in a Tel Aviv suburb on Christmas that killed four Israelis and the bomber.
A militant group, the Popular Front for the Liberation of Palestine, claimed responsibility for the bombing, the first suicide attack inside Israel in nearly three months, and identified the bomber as Saed Hanani, 18, from the village of Beit Furik, near Nablus. Just hours after the bombing, Israeli forces demolished his family home, an Israeli response that has become routine after bombings and other attacks.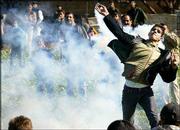 Copyright 2018 The Lawrence Journal-World. All rights reserved. This material may not be published, broadcast, rewritten or redistributed. We strive to uphold our values for every story published.