Belgrade, Serbia-Montenegro — It looks like another rough day for Serbian politics today -- four indicted war criminals are running for parliament.
The elections could result in seats for at least two of them, Slobodan Milosevic and a former associate. They won't be taking those seats, since both are in jail in The Hague, awaiting trial. But their election will deal a prestige blow to U.S. and European hopes of fostering a pro-Western democratic leadership.
Three years after Milosevic was overthrown and a decade of Balkan wars neared their end, Serbians have become disillusioned with democracy, evident from their failure, three times in a row, to get a big enough turnout to elect a president.
Today's election is likely to be just as inconclusive. Polls are predicting the Radical Party will win the most seats in the 250-member parliament, but not enough to form a majority coalition.
The Radical Party's lead candidate is Vojislav Seselj, a former Milosevic associate. Before he was jailed pending trial for alleged war crimes during the Balkan wars, his claims to fame included spitting at the parliament speaker and brandishing a handgun in front of the parliament building.
The Radicals are projected to win 24 percent of the vote, and the Socialists, who are running Milosevic, 8 percent. The closest pro-democracy grouping is G-17 at 21 percent.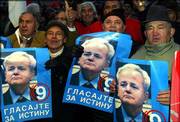 Copyright 2018 The Associated Press. All rights reserved. This material may not be published, broadcast, rewritten or redistributed. We strive to uphold our values for every story published.