In a week or two Jason Stark figures he'll be tossed from the house he shares with two other men.
"They've got their disability (payments). I can't get mine," said Stark, 33. "I don't know what the deal is. I don't have any money."
Stark, who takes three prescription drugs to control his schizophrenia, is one of more than 400 Kansans -- all of them disabled and poor -- who on Jan. 1 will be dropped from the state's General Assistance and MediKan rolls.
That means MediKan won't be paying for his medications anymore.
And Stark will lose the $118 cash-assistance check he's been getting from the Department of Social and Rehabilitation Services each month. So he won't be able to pay his share of utility bills.
All but $16 of his rent is paid by a low-income housing program. But after Jan. 1, he won't have that $16 either.
"I'm scared," said Stark, a regular participant in Bert Nash Community Mental Health Center's drop-in program.
He has been homeless before and expects to be homeless again.
"I don't see anything else out there," he said.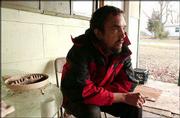 Neither do Bert Nash officials.
"The window of services that's available to these people keeps getting narrower and narrower," said Trish Stucky, director of adult services at Bert Nash. "We're at a point now where really, there isn't much, if anything, left. It's a very, very serious situation."
Expendable people
Stark's plight -- as well as the plight of others affected by the two-year cutoff -- hasn't caught the attention of many lawmakers.
"I have to say this hasn't been on our radar screens lately," said Sen. Steve Morris, R-Hugoton, chairman of the Senate budget committee.
"At this point, I don't know what to tell you," Morris said. "I suspect we'll be looking at it again. The governor may put something in her budget. I don't know, we'll have to wait and see."
Gov. Kathleen Sebelius has been noncommittal. Meeting with reporters recently, she said restoration of MediKan and General Assistance was "one of the issues, along with a lot of other SRS initiatives, that we are looking at."
Paul Johnson, director of the church-sponsored Public Assistance Coalition of Kansas, said he and other advocates for the poor recently met with members of Sebelius' staff.
"To say that there's a plan to plug the gaps in the system is an overstatement," Johnson said of the meeting. "There's not been a thorough discussion of what's going to happen to these folks. They're expendable; I think that's pretty clear."
Frequent targets
Historically, General Assistance and MediKan have provided a state-funded safety net for disabled adults who are unable to work and who are awaiting approval for Social Security disability payments, a process that takes six months to two years.
Both programs have been frequent targets of budget cuts because each is financed solely by the state; neither is offset by matching federal funds.
In 2002, lawmakers limited eligibility for the programs to two years, setting the stage for a July 1, 2004, cutoff. The 2003 Legislature made the cuts effective Jan. 1, 2004.
The two-year cap is expected to trim $1.4 million from SRS' $1.9 billion budget in the current fiscal year, which ends June 30. Officials have predicted a $3.1 million savings in fiscal 2005.
Rob Tabor, benefits attorney at Independence Inc. in Lawrence, said he doubted the official savings estimates.
"What doesn't get mentioned in all this is that when someone who's been on GA and MediKan is cleared for Social Security/disability, there's a provision that says the feds will reimburse the state for whatever it put up in benefits," Tabor said. "So it's not like the state is out that money altogether."
Tabor is representing Stark in his application for Social Security disability benefits. He declined comment on his client's case but said it was not unusual for people in Stark's situation to end up on the streets.
"They move into somebody's basement, then they borrow money from friends and relatives for as long as they can," Tabor said. "But that can't go on forever, and there comes a time when there's nowhere else to turn but the streets."
Complicating factors
Stark's chances of eventually being approved for Social Security disability payments are complicated by two factors:
l Because he's mentally ill, he may not be disabled enough.
"Most of the time -- but not always -- it takes two disabilities to qualify," said Wayne White, director of research and program development at Kansas Legal Services.
l Though sober now, Stark has battled alcoholism in the past.
"If alcoholism or drug addiction is a material fact in the case, he'll be disqualified," White said. "It's subject to appeal. I don't want to say it can't happen, but it tends to be a barrier."
White, too, is worried that Stark is headed for homelessness, which, he said, is sure to add to the situation's difficulties.
"You can ask anybody who's in this line of work," he said. "They'll all tell you the same thing -- one of the hardest things they have to deal with is keeping track of people who, because of their circumstances, move around a lot. But once they're homeless, it's even harder."
State hospital
Stark doesn't know what he's going to do.
He figures he can sleep at the Salvation Army shelter. He won't starve because he's still eligible for $141 a month in Food Stamps.
"I eat a lot of ramen noodles," he said. "Once a day, at least."
If his schizophrenia gets the best of him, he'll be sent to Osawatomie State Hospital. That would cost the state more than $200 a day.
"I've been there before," he said. "It's OK."
Still, Stark said, the idea of being homeless is upsetting.
"When I was homeless, the one thing I learned was I don't want to be homeless ever again."
Copyright 2018 The Lawrence Journal-World. All rights reserved. This material may not be published, broadcast, rewritten or redistributed. We strive to uphold our values for every story published.