Jon Ruhlen's orders to go to war-torn Iraq haven't robbed his relatives in Lawrence of their sense of humor.
"I got an Iraq travel guide," Ruhlen chuckled Friday during the last hours of a two-day visit in Lawrence with his parents, David and Betty Ruhlen. "It (Iraq) is not the first place I would have picked to go visit, but it's part of the job."
Ruhlen, a Kansas Army National Guard sergeant, was called to active duty Dec. 18 with the 2nd Battalion, 130th Field Artillery, which is based in Atchison. He leaves Atchison on Sunday for Fort Riley, where he will train until shipping out for Iraq in February.
It's unclear whether Ruhlen, 23, will see his parents again before going overseas.
David Ruhlen said his brother died this past summer, and that made it especially important that this Christmas include as many relatives as possible. It would have been hard to face the holidays without his son in the house.
"When this first came down, we didn't know if he would be able to come home for Christmas," David Ruhlen said. "We're glad he got time off."
David and Betty Ruhlen are proud of their son's sense of duty but are not enthused about his deployment.
"We're not thrilled at all," said David Ruhlen, who serves in the Kansas Guard's 35th Infantry Division Band in Olathe. "We're hoping for a safe return."
To comply with marching orders, Ruhlen wrapped up classes early this fall semester at Emporia State University. He's one semester shy of earning a degree in English at ESU.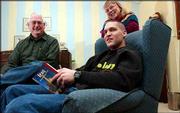 Ruhlen, who enlisted in the National Guard as a teenager in 1997, has been preparing six years for deployment. He assumed the 130th eventually would be mobilized for Iraq.
"I've kind of had a feeling just from watching the news that something like this would happen," Ruhlen said. "I try to look at it now as I've got a job to do."
Ruhlen's mission in Iraq likely will be to provide "force protection," which generally includes security at checkpoints, roadblocks and other key areas.
Ruhlen doesn't get caught up in political debates about the U.S. presence in Iraq. He has opinions, but most of them aren't for public consumption.
"Right now," he said, "my focus is on doing my job."
The Kansas soldiers will replace a similar unit from the Dakotas, said Joy Moser, spokeswoman for the Kansas adjutant general. Soldiers in the 2nd Battalion, 130th Field Artillery are from Hiawatha, Sabetha, Marysville, Concordia, Atchison, Horton, Troy, Abilene and Salina.
Ruhlen grew up in Boyle, an unincorporated town near Valley Falls. He graduated in 1998 from Jefferson North High School. His parents later moved to Lawrence.
Some of his high school friends already have seen action in Iraq.
"One is a door gunner on a chopper. Sometimes that gets hairy," he said.
Ruhlen said he would remain on active duty for 18 months.
Before leaving home Friday, Ruhlen packed his holiday gifts. In addition to the Iraq travel guide, Ruhlen's family filled his stocking with a digital camera, writing materials and travel games.
Ruhlen expects to make good use of it all. He also plans to take advantage of his assignment to study a new foreign language.
"I'm hoping to pick up some Arabic language materials and learn some key phrases," he said.
Copyright 2017 The Lawrence Journal-World. All rights reserved. This material may not be published, broadcast, rewritten or redistributed. We strive to uphold our values for every story published.