Lawrence retailers' post-holiday hopes are on the rise after posting mixed results before the holiday.
Retailers said Friday there were several signs that the week between Christmas and New Year's Day would be a good one.
"If today is any indication of what is to come, it is going to be fantastic," said Don Bushell, store manager at Hobby Lobby, 1801 W. 23rd St.
Brett Schubert, store team leader at SuperTarget, 3201 Iowa, said about 100 people were lined up at 7 a.m. Friday outside the store, waiting for the doors to open. He said in terms of total merchandise sold, the day would be similar to the day after Thanksgiving.
"We're seeing people take one or two entire carts of seasonal items out the door," Schubert said.
One reason for the optimism is gift cards. Several Lawrence retailers reported record sales of gift cards or gift certificates.
"I haven't done the final tally yet, but it seemed like it was our busiest year ever for gift certificates," said Joe Flannery, president of Weaver's, 901 Mass.
Schubert said gift-card sales at the Lawrence SuperTarget set a record, and Bushell said Hobby Lobby's totals likely would be a record once final results were totaled.
"I know the reason I buy them is because I can mail them for 37 cents," Bushell said. "To mail a package it is going to cost a minimum of $5. Why would I want to give that money to the post office?"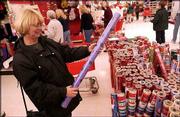 The gift-card sales are expected to help retailers boost their sales into January. Schubert said the trend also had another positive effect: fewer returns.
"Returns have been very minimal today," Schubert said. "It is not the mass chaos that it has been in the past."
There also were indications Friday that shoppers were in a mood to partake in post-Christmas sales. Several shoppers polled in downtown Lawrence said they expected to boost their post-holiday spending.
"I'll probably spend as much after the holidays as I did before because I'm really in the mood to look for sales this year," said Natalie Griego, Lawrence.
That's good news for retailers because many shoppers interviewed downtown said they either spent the same or less on Christmas presents.
"I know I still had a lot of questions about the economy," said Joyce Byrer, Bloomington, Ind., who said she spent the same as she did a year ago.
According to national reports, holiday sales likely will be only modestly better than last year, which was considered below average.
Mid-priced department stores, like JC Penney and Kohl's, were thought to have fared the worst, but discounters also largely posted sales that didn't meet expectations.
"We were pretty much flat here," Schubert said. "But I think we were lucky. I think that a lot of stores saw an actual decrease in sales."
High-end retailers and specialty stores fared the best, according to national reports.
Flannery said that might have helped downtown Lawrence retailers have a better sales season than some of the chains.
"We were pleasantly surprised. It was better than last year," Flannery said. "We just believe that people enjoy shopping downtown because of its uniqueness."
Copyright 2017 The Lawrence Journal-World. All rights reserved. This material may not be published, broadcast, rewritten or redistributed. We strive to uphold our values for every story published.