Orlando, Fla. — Tracy McGrady got the best of LeBron James this time. He's not making any promises about the future.
"He's unbelievable," McGrady said Thursday.
"He's not 18. Can't possibly be. If he continues to work hard and stay hungry, it can be ugly. It's scary how good he can be. You just look at him, man. The poise that he has out on the basketball court. The confidence. He has that swagger."
So does McGrady, whose 41-point performance overshadowed James' 34 points in the Orlando Magic's 113-101 overtime victory over the Cleveland Cavaliers.
The three-time All-Star, who is only 24 himself, conceded that he drew extra motivation from the first meeting between two of the NBA's brightest young stars.
"Absolutely. It's Christmas. I would like to be home with my family. But it's my job to come out and perform. And when you have a guy like LeBron coming into town with all the hype around him, everybody's going to be tuned in and want to see the outcome," McGrady said. "You have no choice but to get yourself ready to play."
James matched last season's league scoring champion point for point for most of the afternoon. The rookie phenom made 13 of 28 shots, but was just 4-of-10 from behind the three-point line and missed all four of his shots in overtime.
"I play the same way every game. It doesn't matter who I play against or what team we are playing against. I just try and help my team win," James said, noting that he and McGrady play different positions and rarely found themselves matched one-on-one.
"He is an All-Star. He is a future Hall of Famer. Guys like him, you cannot stop. You can only hope to contain him."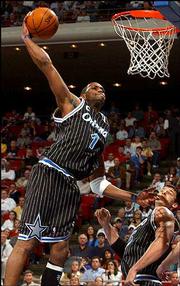 Juwan Howard scored Orlando's first eight points in the extra period, then McGrady made a pair of three-pointers to finish with his second 40-plus game of the season. He also had eight rebounds and 11 assists.
"Tracy's a big-time player, there's no question, as is LeBron James," Magic coach Johnny Davis said. "But T-Mac's focus is not on any one-on-one contest between him and LeBron or him and anyone else. He understands that it's about our team and what he does for our team in terms of making us better."
Howard scored 19 points, and Drew Gooden, of Kansas University, had 12 for Orlando, which has won seven of 10 since ending a 19-game losing streak.
Carlos Boozer had 18 points and 18 rebounds for the Cavs, who had their first three-game winning streak in two seasons snapped. Reserve Eric Williams contributed 18 points and seven rebounds, taking up some of the scoring slack when James' shots stopped falling late.
The game drew the first sellout crowd to the T.D. Waterhouse Centre since James made his pro debut here in July. It also kicked off a nationally televised tripleheader featuring some of the league's highest-profile personalities and teams.
James has the NBA's top-selling jersey, as well as a signature sneaker released just in time for Christmas, and McGrady's No. 1 is third on the jersey list behind Denver rookie Carmelo Anthony.
McGrady, coming off a subpar shooting night in a 22-point loss Monday night at Philadelphia, made his first three, including uncontested dunks on consecutive possessions that set the tone for a high-scoring first half.
James was even better during a 14-point first quarter, making his first four shots and five of seven in the period.
A six-minute stretch on the bench didn't cool the 18-year-old standout. He made his first two shots after the rest -- both three-pointers -- and finished the first half with 20 points on 7-for-9 shooting, including 4-for-5 from three-point range.
McGrady was 8-of-14 for 19 points at the break, and the Magic received 17 from their reserves to offset Cleveland's 61 percent shooting and take a 60-58 lead.
Orlando led 95-86 with 6:36 remaining in regulation, then missed 12 of 13 shots down the stretch, including its last six. The Cavs tied it at 97 on Boozer's rebound of a James' miss with 46.9 seconds left.
Mavericks 111, Kings 103
Sacramento, Calif. -- Dirk Nowitzki had 31 points and 14 rebounds, and Antoine Walker punctuated an outstanding game with a three-pointer with 1:04 left, helping Dallas snap a four-game losing streak.
Walker had 23 points, 12 rebounds and eight assists, hitting five three-pointers as the Mavericks picked up their fifth win in their last six regular-season games in Sacramento.
In just their second home loss of the season, the Kings played without suspended All-Star Peja Stojakovic and injured forward Chris Webber, who hasn't played since blowing out his knee early in the teams' second-round playoff series last spring, won in seven games by Dallas.
Antawn Jamison had 22 points for Dallas, which fell behind by 18 in the first half and then struggled to finish off the short-handed Kings after a second-half rally. Dallas scored the final eight points of the game, beginning with Walker's three.
Mike Bibby had 23 points for the Kings.
Rockets 99, Lakers 87
Los Angeles -- Steve Francis had 22 points, nine rebounds and seven assists, and Yao Ming and Jim Jackson added 18 points to help Houston beat the suddenly slumping Lakers.
Cuttino Mobley added 15 points, and Maurice Taylor came off the bench to score 14 for the Rockets (16-12), who snapped a two-game losing streak. Yao also had eight rebounds.
The loss was the second straight and fourth in six games for the Lakers (20-7) since their 10-game winning streak.
Kobe Bryant led the Lakers with 23 points, eight rebounds and six assists, but he shot just 9-of-26 -- including 1-of-7 in the fourth quarter.
Copyright 2018 The Associated Press. All rights reserved. This material may not be published, broadcast, rewritten or redistributed. We strive to uphold our values for every story published.