A Washington state Holstein cow found infected with mad cow disease may have brought in the disease from outside the state, even outside the country, a top U.S. official and a veterinarian familiar with the investigation said Thursday.
In tracking records from the Sunny Dene Ranch in Mabton, which acquired the cow in Oct. 2001, Agriculture Department officials had initially said that one of two herds in Washington state was the birth herd. Identifying this herd is crucial because the cow was likely infected before it got to Mabton.
If the cow did come from out of state, it could widen the potential circle of risk. Each step back that investigators go to find the birth farm exponentially increases the number of ways the infection might have spread elsewhere.
"While we initially went from the index herd where we found two locations, we are tracing back further from there," W. Ron DeHaven, USDA's deputy administrator and chief veterinary officer, said Thursday night. "It gets to be a spider web of possibilities from there."
Regulators want to find the birth herd and the sources of the infected Holstein's feed in order to predict which other cattle may have eaten the same feed and are at risk. Every extra step in their search dramatically complicates efforts to clamp down on the source of the disease.
Officials also announced Thursday that a top British laboratory had confirmed from tissue samples flown in on a military plane that the Holstein suffered from mad cow disease -- final proof that the dreaded illness has made its first appearance in the United States.
Canada connection?
A veterinarian in the Yakima Valley familiar with the investigation who asked not to be identified said he had learned that the "cow didn't spend her whole life in the state of Washington." In recent years, a large number of cattle have been imported into the Yakima Valley, primarily from Canada, following a rapid expansion of local dairy herds, according to another veterinarian, Ernie Munck. "I have several clients that have brought in cows from Canada," said Munck, a large animal veterinarian from Prosser, Wash. "One client brought in a few truckloads from Ontario."
DeHaven declined to speculate on whether the Holstein might have come from Canada, where a case of mad cow disease was unearthed in May. Following that discovery in Alberta, the U.S. clamped down on beef imports from Canada. The infected Holstein likely ate contaminated feed around 1999 or 2000, before the ban on Canadian cattle and products was put in place.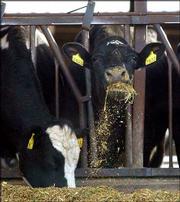 "Cattle move interstate and internationally all the time," DeHaven said. "At the time this cow entered the herd from which she went to slaughter was before Canada had found their first case and live cattle were moving back and forth ... what we're doing is tracing all the premises of residence."
Assessing risk
Mad cow disease or bovine spongiform encephelopathy is believed to be transmitted through infected cattle feed. A single case could be the harbinger of others -- since other animals might have eaten the same feed. Studies have shown that a minority of animals who eat infected feed become sick, but the exact risk to an individual animal is difficult to quantify, said David Ropeik, director of Risk Communication at the Harvard Center for Risk Analysis, which has studied the potential impact of mad cow disease in the United States.
Some 154 people have died of variant Creutzfeld-Jakob Disease, mostly in Britain. The fatal brain-wasting disorder is associated with eating beef infected with mad cow disease. Government officials have insisted that the nation's food supply is safe, because the infected Holstein's brain and spinal cord -- which are believed to contain all the infectious material -- were diverted at the Lake Moses slaughterhouse to a rendering plant.
Following a 1997 Food and Drug Administration ban, brain and spinal cord tissue from cattle are diverted away from the human food supply as well as cattle feed. A mad cow epidemic in Britain spread because farmers were feeding infected brain tissue to other cattle.
The veterinarian who asked not to be identified works in the Yakima Valley. He said he heard about the progress of the investigation through contacts in the livestock industry; he also said that investigators had concluded the infected cow was purchased at the Toppinish Livestock Commission, a large sale yard not far from Sunny Dene Ranch. A co-owner of the sale yard, Jeff Weirsma said over the telephone, "We are not going to talk about nothing on Christmas Day."
The United States halted imports of beef products and live animals from Canada following the detection of mad cow disease in a single animal in Alberta in May. Some restrictions have been lifted, most notably on beef products, meat products and cuts of meat, according to DeHaven. He said Wednesday that USDA has proposed a rule to allow the import of live animals from Canada. According to a Canadian government timeline, the cow found infected in Alberta was slaughtered on Jan 31, 2003. It was 6-to-8 years old. It was suspected of having pneumonia, diverted from the food supply, and sent to a rendering facility.
On May 16, 2003, tests of tissue taken from the animal came back positive for mad cow disease. The delay was because the test was given a low priority because the animal was not in the food supply.
Tests showing that the Washington state Holstein had mad cow disease took 13 days to complete. But meat from this Holstein was allowed "into the human food chain," according to Bill Brookreson, deputy director at the Washington state Department of Agriculture. Brookreson said Thursday investigators were still trying to pin down whether any part of the infected cow had reached grocery shelves. Officials ordered a recall on Wednesday of all 20 cows slaughtered at a Moses Lake facility on Dec 9, including the infected Holstein, but it is unclear how far "downstream" the meat may have traveled in 15 days.
Several supermarket chains in Oregon and Washington announced they had pulled beef off shelves that had been received from Interstate Meat Distributors of Clackamas, Ore., near Portland. Interstate processed meat that may have come from the infected Holstein.
Copyright 2018 The Lawrence Journal-World. All rights reserved. This material may not be published, broadcast, rewritten or redistributed. We strive to uphold our values for every story published.