Tehran, Iran — Iran's best-known female dancer and 24 of her students have been detained on charges of dancing in public -- for an all-female audience, her husband said Thursday.
Although there are no written laws against dancing, Iran's hard-line clerics have banned the activity, which they consider a promotion of moral corruption.
Farzaneh Kaboli and 24 of her students were detained Wednesday night as they were performing folk dances on the second night of a two-week program at Tehran's prestigious Vahdat Hall, Hadi Marzban said.
Marzban said the students were freed Thursday after signing statements pledging not to perform again, but Kaboli was taken to Evin Prison, north of Tehran.
"It was a program of rhythmical movements displaying folk dance of various provinces of Iran to an all-female audience. The program had been authorized by the Culture Ministry," a distressed Marzban told The Associated Press.
Marzban said efforts by pro-reform government authorities failed to prevent police from taking Kaboli to prison. She has not yet been charged.
Judicial officials were not available for comment, as Thursday is the first day of the weekend in Iran.
Marzban, an actor, insisted that his wife did not teach dancing.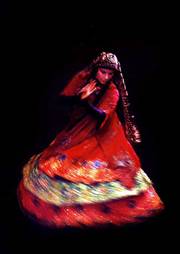 "She was not teaching dance. She was just displaying various rhythmical programs existing in different parts of Iran," he said.
Although Kaboli has acted in some films shown on hard-line-controlled state-run television, she was banned from working for several years in the 1990s after the circulation of a video that showed her dancing before a male audience in a private party.
Kaboli's dance programs, available on bootlegged video, are widely watched by Iranian women.
Last year, a hard-line court in Tehran barred Mohammad Khordadian, Iran's top male dancer, from giving dance classes for life and banned him from leaving Iran for 10 years.
Khordadian, based in Los Angeles, returned to the United States after an appeals court lifted the travel ban.
Copyright 2018 The Associated Press. All rights reserved. This material may not be published, broadcast, rewritten or redistributed. We strive to uphold our values for every story published.