St. Louis — There's a hole in the resumes of Missouri seniors Arthur Johnson and Rickey Paulding -- they haven't beaten Illinois.
The 11th-ranked Tigers hope to end a three-game losing streak, which encompasses the careers of Johnson, Paulding and Travon Bryant, in the annual "Braggin' Rights" neutral-site game with the No. 21 Illini tonight.
"All I know is I haven't beaten them," Bryant said. "We're all looking forward to it."
So is new Illinois coach Bruce Weber. This will be his first hands-on experience with one of the best atmospheres in college basketball. It's almost half-and-half, each side of the sold-out crowd trying to drown out the other.
"Everybody talks about it," Weber said. "Throw out the records: It's one of those games where you're going to have to fight it out.
"A game like this, somebody rises up and is special and makes a big difference."
Missouri (4-1) warmed up for the rivalry game by beating North Carolina-Greensboro, 106-98, Sunday. Usually, the Tigers play Illinois (6-2) coming off a long holiday layoff, but this time it comes in a stretch of four games in 10 days.
Missouri needed that game even more this year because of a couple of additions. Transfers Jason Conley, the leading scorer in the nation as a freshman in 2001-02 at Virginia Military Institute, and Jason Pulley made their debuts Sunday.
"I wouldn't call it a dress rehearsal," guard Josh Kroenke said before that game. "I just say it's getting back into the swing of things."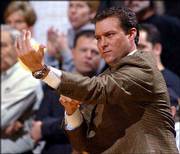 Conley scored 19 points on 7-for-11 shooting, and Pulley had five points and two assists with one turnover in 11 minutes.
"It's hard to gauge right now where our team is because of the new faces and trying to integrate everybody," coach Quin Snyder said. "I think we'll improve naturally over the season as we get to know each other better handling the ball, but there is some looseness."
Conley shook off whatever rust there was quickly. Pulley at least will be familiar with his surroundings, since he began his college career at Saint Louis, which plays its home games at the Savvis Center -- site of tonight's game.
"I feel real comfortable," Pulley said. "I played there a bunch of times, so I'm looking for a good game."
Weber has attended the "Braggin' Rights" game while an assistant coach at Purdue. He was the head coach at Southern Illinois when Missouri knocked the Salukis out of the NCAA Tournament with a 72-71 victory.
"They make you earn things," Weber said. "They have size, and nothing comes easy because of that size."
Copyright 2018 The Associated Press. All rights reserved. This material may not be published, broadcast, rewritten or redistributed. We strive to uphold our values for every story published.