The former employees of Paradise Cafe knew Christmas was going to be less than merry when they received pink slips Dec. 7.
The 16-year-old downtown establishment closed its restaurant but kept its bar business open in early December, leaving about 40 cooks, servers and other employees without a job. What the former employees weren't expecting was that final paychecks would never come.
About 20 former Paradise employees gathered Monday at a downtown coffeehouse to begin the necessary paperwork to file claims with the Kansas Department of Human Resources. They allege the restaurant, 728 Mass., owes them from a week's to a month's worth of pay.
"We feel like we've been ripped off," said Angie Davies, a former server at the restaurant.
Davies said she had not been paid for work completed from Nov. 7 to Dec. 7. Her roommate, who also worked at the restaurant, hasn't been paid for about two weeks of work. The two are owed about $500, she said.
"I really have no idea where our rent is going to come from," Davies said. "It is just a bad time. First we get laid off two weeks before Christmas, and now this."
Negotiations under way
Steve McCoy, owner of Paradise, doesn't dispute the former employees are owed back wages. He estimated about 40 employees are due a total of $15,000.
"I'm desperately trying to find the money to pay them," McCoy said. "I know it is an awful time to have this happen. It is keeping me up at nights."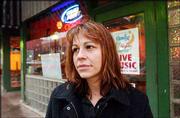 McCoy said he was working with several banks to get a home equity loan that would allow him to pay the wages, perhaps before the end of the month.
He also said he was negotiating with parties interested in purchasing the business.
"I'm very hopeful that we could have it serving food again early next year," McCoy said.
Several former employees have been trying to raise money to buy the business. McCoy said he also was talking with other groups.
Though he's the owner, McCoy hasn't been actively involved in the business for the past 14 months. He reached a deal last year to sell the business to Schuyler Lister, a downtown retailer who owns Creation Station. Lister took over the lease on the building, but McCoy said Lister did not fulfill other terms of the contract and did not own the restaurant's equipment, stock or other assets.
As leaseholder on the building, Lister has continued day-to-day operations of the business. And it was Lister who decided to shut down the restaurant and lay off the 40 employees.
Lister declined to comment Monday, but former employees said he had told them McCoy was responsible for their back wages. McCoy agreed.
"The stock and the assets all belong to me, and it seems like the bills do too," McCoy said.
Too many changes
Monday afternoon, employees were bitter about the situation.
"Everything they have done down there seems to be very questionable," said John Briggs, an assistant kitchen manager who estimated he was owed about $600 in wages. "I feel like I'm out on the street getting hustled."
Others wondered how the restaurant, which had been a downtown landmark and one of the city's popular restaurants, could go downhill so quickly.
"It was a staple; it was an institution in downtown," Davies said. "And now it is just gone."
McCoy said Lister tried to change too many aspects of the restaurant and lost key customers as a result. Lister closed the business for about six weeks in late August to remodel and install a doughnut bakery. He also cut the menu's selection.
"I guess I wasn't heavy-handed enough with Schuyler to stop him from making so many changes," McCoy said. "He was emphasizing the bar, and that is not the direction the public wanted it to go."
The bar remains open, but McCoy said it was not generating enough revenue to pay the former employees.
State officials may be able to help retrieve some of the wages. The Kansas Department of Human Resources has a division that handles complaints about alleged violations of the Kansas Wage Payment Law.
Tim Triggs, a labor conciliator with the department, said he was aware of the complaints against Paradise.
"I don't think there is a dispute involved here," Triggs said. "I just think they're out of money."
Triggs said a provision in Kansas law allowed employees to go after business owners' personal assets, but he said that wasn't allowed in every instance. He also said the department might be able to take the business to court to retrieve back wages.
Any state action, though, would take several months to resolve. Some former employees said they were more concerned with making ends meet in the coming days and weeks.
"Basically they just turned their backs on us," said Tonya Scheurich, a former server who estimated she was owed $300. "I have two children who still expect Christmas to happen. It is an extremely stressful time right now."
Copyright 2018 The Lawrence Journal-World. All rights reserved. This material may not be published, broadcast, rewritten or redistributed. We strive to uphold our values for every story published.