Vinland — The biblical Christmas story once again came to life Sunday night in Vinland.
For the 28th consecutive year, volunteers took turns portraying Mary, Joseph and shepherds while an infant, in the role of baby Jesus, lay in a crib. Farm animals sat or stood nearby.
"I think it's awesome," said Ed Howard, as he and his family watched this year's version of the Living Nativity inside the Vinland Fairgrounds building. "It certainly puts it into perspective."
Though originally from the Vinland area, Howard, his wife, Christina, and their three children, now of Crestwood, Ky., were seeing the Vinland Living Nativity for the first time. They are among about a thousand people expected to visit the Nativity during its three-night run, which concludes Tuesday night, organizers said.
"Every year is interesting," said Jean Moore, coordinator of the event. "It seems like something new happens all the time."
Darlene Hart, who in previous years has taken her turn at portraying Mary, still remembers the little 2-year-old girl who one year left her wrapped-up pacifier at the Nativity scene as a gift to baby Jesus. It was the girl's mother's way of breaking her daughter of the pacifier habit, Hart said.
Hart's husband, Neal Hart, who has portrayed Joseph and the shepherds, said the children made the Nativity fun.
"It's a great thing to watch the kids' faces," Neal Hart said.
"You get to watch people's reactions," Darlene Hart said. "You get to see people from both sides of the (manger)."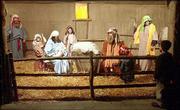 The Living Nativity is put on each year by Vinland United Methodist Church. It also serves as a fund-raising event for United Methodist Youthville in Newton. Youthville provides housing for children placed outside their home, adoption services and intensive child and family services.
The Nativity scene volunteers portray their characters for about 30 minutes before giving way to another set of volunteers.
Sunday night Jake Petersen, a Kansas University sophomore from Lawrence, waited his turn to play one of the shepherds. He was participating in the Nativity for the first time after reading a newspaper story about it and hearing about it from a friend.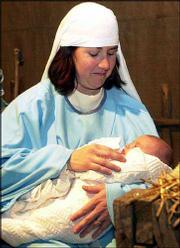 "I felt like it was something I wanted to do," Petersen said. "There are a lot of Nativity scenes being shut down now, and I wanted to support this one."
The Living Nativity can be seen from 6 p.m. to 9 p.m. today and Tuesday. The fairgrounds are a quarter of a mile east of Douglas County Road 1055 on County Road 460. A brightly lit "star" shines from a pole marking the fairgrounds.
Copyright 2018 The Lawrence Journal-World. All rights reserved. This material may not be published, broadcast, rewritten or redistributed. We strive to uphold our values for every story published.