St. Louis — Playing for a first-round bye and at least one playoff game at home, where they've won a franchise-record 14 in a row, was more than enough incentive for the St. Louis Rams.
Marshall Faulk scored two touchdowns, Torry Holt had his 10th 100-yard receiving game, and Grant Wistrom tied his career best with 21/2 sacks as the Rams avoided a letdown a week after clinching the NFC West. In the process, they knocked the Bengals from a first-place tie in the AFC North with a 27-10 win.
The Rams (12-3) also took the inside track for home-field advantage throughout the playoffs when Philadelphia lost in overtime to San Francisco. That left the Eagles, who had had the tiebreaker over the Rams, at 11-4, a game behind.
"We had probably the best week of practice we've had all year," Wistrom said. "We went out focused every day, and that's the way this team has played all year long.
"We've always had a very businesslike attitude."
Baltimore shut out Cleveland and leads the Bengals (8-7) by a game heading into the final weekend, with the Bengals finishing at home against the Browns and Baltimore home for the Steelers. The Bengals hold all the relevant tiebreakers if the teams end with the same record.
"The mind-set is that things are not in your hands any longer, but take care of what is in your hands, and that is the football that you have next to play," quarterback Jon Kitna said. "Regardless of what happens with Baltimore, you want to go out and win your last game."
Kitna was intercepted a season-high three times, and the Bengals were shut out in the second half.
Chad Johnson had seven catches for 115 yards, setting a franchise single-season record with 1,326. He also might have invited another fine from the NFL because he wore orange shoes in violation of the uniform code.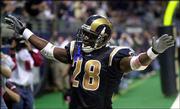 Jaguars 20, Saints 19
Jacksonville, Fla. -- The Saints scored a touchdown on one of the wackiest plays in NFL history. Then, almost more unbelievably, John Carney missed the extra point with no time left, and New Orleans dropped from the playoff race.
The Saints (7-8) looked like they had a play to put Joe Horn's cell phone episode of last week behind them. With six seconds left, Aaron Brooks passed to Donte' Stallworth, who then threw crossfield to Michael Lewis. He pitched back to Deuce McAllister, who lateraled to Jerome Pathon, who went the final 20 yards for the 75-yard touchdown.
Carney, 35-of-35 this year and 403-for-408 on extra points over his 14-year career, hit a dead push, sailing the kick wide right.
The Jaguars (5-10) have all their wins at home.
Broncos 31, Colts 17
Indianapolis -- The Denver Broncos didn't need Clinton Portis to carry them into the playoffs.
Quentin Griffin, Mike Anderson and Jake Plummer did it themselves.
With an injured Portis cheering them from the sideline, Griffin ran for 136 yards, Anderson had 56 yards and one touchdown, and Plummer ran for two scores as the Broncos pounded Indianapolis.
Denver (10-5) won its fourth straight game and clinched its first playoff spot since 2000 and only its second postseason berth since John Elway retired following the 1998 championship season.
The Broncos also prevented the Colts (11-4) from wrapping up the AFC South and moving into position for a first-round bye.
Indianapolis still could win its first division title since 1999 with a victory next week at Houston, or a Tennessee loss. But New England (13-2) would have a better overall record, and Kansas City (12-3) would have a better conference record even with another defeat.
Panthers 20, Lions 14
Charlotte, N.C. -- Detroit set an NFL record with its 24th straight road loss, a defeat by a Carolina team that rested five starters. Jake Delhomme threw for two touchdowns, and John Kasay kicked a pair of field goals to lead the Panthers (10-5), who already have clinched the NFC South. The Lions (4-11) haven't won on the road since a 10-7 win over the New York Jets at the Meadowlands Dec. 17, 2000.
Dolphins 20, Bills 3
Orchard Park, N.Y. -- Terrell Buckley returned an interception 74 yards for a touchdown, leading a stifling defensive effort that kept alive the Dolphins' wild-card hopes.
Jason Taylor had 21/2 sacks as Miami limited the Bills (6-9) to 177 total yards -- a mere 11 in the first half. Miami (9-6) still needs help to make the playoffs.
Cowboys 19, Giants 3
Irving, Texas -- Billy Cundiff kicked four field goals as the Cowboys clinched at least a wild-card berth and stayed alive for a shot at the NFC East title. The 10 wins in Dallas coach Bill Parcells' debut year are the most for the Cowboys (10-5) since 1998, the last time they had a winning record. The Giants (4-11) lost their seventh straight game.
Ravens 35, Browns 0
Cleveland -- Jamal Lewis closed in on the 2,000-yard rushing club, and the Ravens zeroed in on the AFC playoffs.
Lewis rushed for 205 yards on 22 carries and scored two touchdowns, one for 72 yards in the third quarter as the Ravens (9-6) moved back into first place in the AFC North over Cincinnati (8-7). Lewis has 1,952 yards and needs just 48 to become the fifth back to get 2,000 yards in a season.
Titans 27, Texans 24
Houston -- Steve McNair, playing despite a cracked bone spur in his left ankle, hit Drew Bennett for a 23-yard touchdown with 17 seconds left to lead Tennessee into the playoffs.
Tennessee (11-4) fell behind with 1:48 remaining when Domanick Davis capped a lightning-quick drive by the Texans (5-9) with a five-yard touchdown run. That put the ball back into the hands of McNair, who drove the Titans 75 yards in the waning seconds.
49ers 31, Eagles 28, OT
Philadelphia -- Tony Parrish's second interception set up a 22-yard field goal by Todd Peterson in overtime, helping the 49ers snap the Eagles' nine-game winning streak.
The Eagles (11-4) still can clinch their third consecutive NFC East title and secure a first-round bye with a victory Saturday over Washington. They need to beat the Redskins and have St. Louis lose Sunday at Detroit to earn home-field advantage throughout the playoffs.
The win by San Francisco (7-8) was its first on the road in eight games this season.
Seahawks 28,
Cardinals 10
Seattle -- Shaun Alexander ran for two touchdowns, Matt Hasselbeck threw for another score, and Seattle's defense had eight sacks.
Arizona (3-12) lost its seventh straight game and 13th in a row on the road -- including all eight this season. Seattle (9-6) remained alive for a wild-card playoff spot.
The Cardinals' Anquan Boldin had 10 receptions, breaking Terry Glenn's rookie record of 91 and giving him 96 for the season.
Bears 27, Redskins 24
Chicago -- After shanking two makeable field goals, Paul Edinger kicked a a 45-yarder with five seconds left to give the Bears their fourth win in five games.
Anthony Thomas rushed for a season-high 141 yards, and rookie Rex Grossman improved to 2-0 as a starter for the Bears (7-8). Grossman was 19-of-32 for 249 yards against Washington (5-10) and his old Florida coach, Steve Spurrier.
Steelers 40, Chargers 24
Pittsburgh -- Tommy Maddox threw three touchdown passes, and Jerome Bettis passed Marcus Allen to become the seventh-leading rusher in NFL history for the Steelers (6-9).
Drew Brees had three costly turnovers for the second straight week for San Diego (3-12) as Deshea Townsend intercepted two passes and recovered a fumble. Townsend returned the second interception 25 yards for a TD.
Bettis ran for 115 yards, his second 100-yard game in three weeks after he went more than a year without one.
Copyright 2018 The Associated Press. All rights reserved. This material may not be published, broadcast, rewritten or redistributed. We strive to uphold our values for every story published.