Wayne Kruse is prepared to go after what Pam Gibbs is chasing and Chris Cobb already earned.
The Lawrence public school district teachers are at different stages of a master's degree program offered by Baker University in Baldwin.
One of the best parts of this program for master of education students: no commuting because Baker faculty come to Lawrence for class.
"The content of the curriculum is the same as if you went to the actual Baker campus," said Kruse, a sixth-grade teacher at Quail Run School.
Kruse is enrolled to start his master's degree program in January. Gibbs, a music teacher at Quail Run, is in the middle of her course work. Cobb, who teaches in the preschool program at East Heights School, already finished his degree.
There are about 15 teachers in each cadre.
"I thought it was a tremendous program," said Cobb, who was part of the first group of 14 Lawrence teachers to complete degrees. "Baker did a nice job of tailoring our classes so it met our needs at whatever grade level we had."
The group of Lawrence teachers that wrapped up degrees and the group now studying toward a degree concentrated on learning ways to improve use of technology in classrooms.
Gibbs, who has taught music for six years in the district, is convinced savvy deployment of computers could make her a better teacher.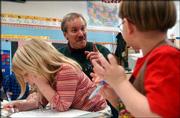 "There's a lot of computer-based programs that help with music instruction and the actual writing of music," she said.
The group that starts in January will lean toward developing educational leadership skills.
The goal isn't to turn them into school principals or district administrators, said Judy Favor, director of graduate liberal arts and education programs for Baker.
"It's more the philosophy of: 'In the classroom, we are leaders as instructors,'" she said.
Classes for the master's degree students are conducted once a week and are scheduled around the Lawrence district's academic calendar. It takes about 18 months to complete this master's degree program through Baker, Favor said.
She said students in the program paid their own way. Tuition and associated costs of a 36-credit-hour program at the university range from $7,000 to $8,000.
In addition to expanding educational skills, Lawrence teachers who complete the program earn an automatic raise.
"For me, it's about -- in the first year -- a $1,500 increase," Kruse said. "On the grand scheme of things, it definitely pays off."
Cobb, who is contemplating the possibility of seeking a doctorate, said financial rewards of an advanced degree would likely motivate more teachers to participate.
"You almost have to do something to improve your education if you want to keep up with inflation," he said.
Copyright 2018 The Lawrence Journal-World. All rights reserved. This material may not be published, broadcast, rewritten or redistributed. We strive to uphold our values for every story published.