NOEL, MO. — For most of the year, Noel, pronounced with one syllable, is the "canoe capital of the Ozarks" -- the heart of a tourist industry based around Elk River.
When the leaves have fallen and the temperature drops, the city's name changes to "No-el," and its title changes to the "Christmas City."
At the heart of that annual change is the Noel post office, where Postmaster Robert Brumback and dozens of local volunteers spend six weeks stamping thousands of cards and letters with the city's trademark red wreath or green Christmas tree stamps.
"This is something very unique to Noel, and it goes back to the 1930s," Mayor John Baucom said. "All the people I mail cards to love to get that stamp. The postmaster gets more volunteers than he can handle because everyone in Noel wants to get involved."
Brumback said he received cards and letters from people across the country and around the world who wanted that special stamp and their postage stamps canceled in a city with the name that captures the spirit of the Christmas season.
Brumback said he received 56,000 cards and letters seeking the Noel stamp last year. Many come in bundles to be broken up and forwarded to their final destinations from Noel. Others are envelopes to be sent back to the sender after stamping. Some are requests from collectors seeking Noel's unique stamp.
Brumback, who has been postmaster in Noel for the past 10 years, said the town's name presented unique challenges.
"I grew up in Neosho, so I was aware of Noel and the Christmas stamps, but until you step into this building as postmaster, you have no idea how much mail comes in that time frame between Thanksgiving and Christmas," Brumback said. "It's more work, but it's good-feeling work. The folks who drive here for the stamp are a joy to talk to, and the people who mail here are putting a special effort to putting the magic in their Christmas."
Brumback said dozens of people drove to Noel to get the stamp on their cards and letters.
One of the first is usually Robert McClarrinon, 79, from Hot Springs Village, Ark.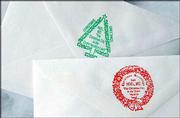 McClarrinon said he had been making the 485-mile round trip from his home to Noel for the past five years because his family and friends like the unique Noel stamp.
"They talk about it and think it's kind of clever," McClarrinon said in a telephone interview. "I send out about 15 cards a year to family and people I've known in the past. I'm widowed now, and most of the people are friends my wife and I had. It's just a way to let them know I'm still around one more year."
Brumback said the local volunteers made this phenomenon possible. He said between 40 and 60 people were scheduled two at a time in two shifts daily to stamp the envelopes.
"The post office is not unlike other businesses. We have a schedule, and it's written in stone," Brumback said. "Noel in the summer is a river town with the canoes and campgrounds. For 11 months of the year, we try to tell people we're Noel and try to get people to pronounce it 'Nole,' but this time of year, most citizens don't mind being in Noel pronounced the other way."
Copyright 2018 The Lawrence Journal-World. All rights reserved. This material may not be published, broadcast, rewritten or redistributed. We strive to uphold our values for every story published.