Washington — Time Magazine named the "The American Soldier" as its Person of the Year, saluting the young people "who share the duty of living with, and dying for, a country's most fateful decisions."
U.S. soldiers are serving in Afghanistan, Iraq and other hotspots around the world in the nation's so-called War Against Terror, triggered by the destruction of the World Trade Center towers on Sept 11, 2001. Several hundred have died in Iraq alone.
"They are the bright, sharp instrument of a blunt policy, and success or failure in a war unlike any in history ultimately rests with them," Time said.
The 2003 Person of the Year package, on newsstands today, features an artillery survey unit from the 1st Armored Division to tell the story of the American soldier.
The magazine's cover shows three of them -- Sgt. Marquette Whiteside of Pine Bluff, Ark., Sgt. Ronald Buxton of Lake Ozark, Mo., and Spc. Billie Grimes of Lebanon, Ind., all members of Survey Platoon, Headquarters Battery, 2nd Battalion in the 1st Armored's 3rd Field Artillery Regiment, based in Giessen, Germany. Two Time journalists embedded with the platoon were injured in a grenade attack this month.
A half-century ago, Time also delivered a similar verdict. In 1950, the magazine chose "G.I. Joe" for saving South Korea after it was attacked by Communist North Korea.
Other candidates this year reportedly included actor-turned-California Gov. Arnold Schwarzenegger, reform-minded New York Atty. Gen. Eliot Spitzer and President Bush (who has already won the designation).
The latest selection was the second group award in as many years. Last year, Time gave its award to "whistleblowers," the employees who exposed the wrongdoing of the companies or organizations for which they worked.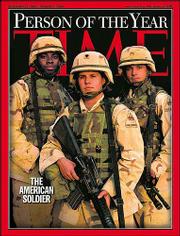 Time has issued its award since 1927. Past recipients include great leaders such as Martin Luther King Jr. and Winston Churchill, as well as bloody dictators such as Joseph Stalin and Adolf Hitler.
Time Managing Editor Jim Kelly said former Iraqi President Saddam Hussein was not considered this year because "he was on the losing side of this conflict," and it was unclear how much he was leading the insurgency that continues to attack U.S. soldiers more than seven months after an end to major combat was declared.
Copyright 2018 The Lawrence Journal-World. All rights reserved. This material may not be published, broadcast, rewritten or redistributed. We strive to uphold our values for every story published.