Reno, Nev. — I don't know what the fire codes are in "The Biggest Little City in the World," but I was pretty sure the Reno fire marshal would frown on a halftime blaze in the Lawlor Events Center.
After Kansas University's men's basketball team shot a dreadful 24.3 percent in the first half while wearing predominantly red uniforms for the first time since 1986, I thought KU coach Bill Self might make the Jayhawks switch to their standard blue road uniforms in the second half, toss the red ones into a heap and torch them.
"I don't think," he said with a smile, "there is any scientific evidence that shooting is affected by the color of your uniform."
Sure enough, the Jayhawks -- still dressed in red -- shot 62.1 percent in the second half, and added to the unscientific evidence that basketball goals are indeed color-blind.
Thus Kansas thumped UC Santa Barbara, 72-52, on the first night of the Wolf Pack Classic and became the first KU basketball team to win a game while wearing red uniforms in more than 50 years.
To jog your memory, KU coach Larry Brown, a man hidebound in superstition, opted for the red uniforms when the Jayhawks qualified for the NCAA Final Four in 1986. Brown learned that KU's 1952 NCAA champions had worn red, so he figured what the heck?
But after the Jayhawks bowed to Duke, 71-67, at Reunion Arena in Dallas -- and, incidentally, forward Archie Marshall had gone down because of a serious knee injury -- Brown considered red unlucky and forbade their future use.
Actually, the crimson uniforms you saw the Jayhawks wearing Saturday night against UC Santa Barbara were a brighter red, as I recall, than the 1986 batch. These contemporary red uniforms featured heavier blue piping and larger white swatches.
Self, by the way, had no ulterior motive or historical imperative for opting for red. This was a practical decision based on fact the Jayhawks are playing back-to-back games on the road.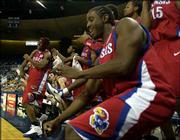 "Now we don't have to wash our uniforms," he said. "We can wear blue tomorrow night."
Somewhere late Saturday night were a handful of team managers who must have been thankful they didn't have to scour Northwest Nevada for a Laundromat.
Many KU fans don't much care for the Jayhawks in red. They say it's Nebraska's color. Or Oklahoma's. And now that Kansas is in the Big 12 Conference, probably even Texas Tech.
Remember when Brown had the Jayhawks wearing yellow for one game during the 1988 season? He junked those because of a hue and cry from many who felt the Jayhawks looked too much like archrival Missouri.
Not that red uniforms are all that unusual on KU teams. Soccer dons crimson from time to time, even at home. And so does the softball team. But, of course, KU's soccer and softball teams do not appear on live television across the state and sometimes the nation.
Saturday night, the KU men's basketball team would have performed at low first-half level and then at a high second-half level whether they were wearing polka-dot knickers, Barbie ensembles or mink coats.
Sure, the Jayhawks didn't shoot very well -- inaccuracy happens -- but the 17 steals stuck out like the Pope in a business suit. More impressive was the fact those 17 steals were credited to 10 different players.
You can win when you play defense. And it doesn't matter if the Jayhawks are wearing chartreuse, butterscotch or purple (oops, that's never going to happen).
Copyright 2018 The Lawrence Journal-World. All rights reserved. This material may not be published, broadcast, rewritten or redistributed. We strive to uphold our values for every story published.