The 2004 U.S. stamp calendar reminds us what is unique and special about America -- its people, places, events and achievements.
As in past years, the 2004 stamp schedule will be addressed in two parts -- January to May and June to December. Today, Part 1.
The first stamp of the year (Jan. 2) will feature a 10-stamp pane depicting sea creatures in the sixth of the "Nature in America" series, showing a coral reef near Guam, a U.S. territory in the Western Pacific. On Jan. 13, the USPS continues hailing the Chinese New Year -- the year of the monkey. This is the last of 12 designs for the lunar celebration.
Candy hearts will appear on the 2004 "Love" stamps in time for Valentine's Day in February. The "Love" stamp series began in 1973. A pair of stamps designed for use on wedding invitations and other special occasions will feature white lilies and wild pink roses.
The fifth in the Distinguished Americans series, in March, will honor track star Wilma Rudolph, one of the world's finest athletes. To mark the 50th anniversary of the U.S. Air Force Academy, a special stamp will depict the Cadet Chapel.
May will be the busiest month of the U.S. program. To commemorate the bicentennial of the Lewis and Clark expedition, there will be a 32-page prestige booklet plus a pane of 20 illustrating Lewis and Clark surveying the countryside. Also in May there will be five designs portraying art work of Isamu Noguchi. Another pane of 20 honors American choreographers. The National World War II Memorial also is on the crowded May schedule.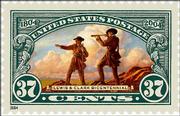 Copyright 2017 The Associated Press. All rights reserved. This material may not be published, broadcast, rewritten or redistributed. We strive to uphold our values for every story published.