Christmas dinner is a time for holiday decorations and special dishes.
One of the most famous Christmas chinaware patterns is "Christmas Eve," designed in 1950 by Viktor Schrekengost for Salem China Co. of Salem, Ohio. It was so popular that it remained in production until 1999.
Many other companies have made dishes specially designed for the Christmas season. Spode has a pattern, first made in 1938, that features a decorated tree. Nikko, a Japanese company working since 1908, has four patterns: Winter Wonderland (1998), which has a snow scene with children; Happy Holidays and Christmastime (1986), which both have the same tree design; and Americana Christmas (2002), showing village scenes. Lenox has several patterns, including one with green leaves and red bows, and one with a bird and a holly sprig.
To complete the table setting, there are special red and green glasses, printed tablecloths, and many Santa figures and small Christmas trees. Everything designed just for the holiday season is collectible today. Christmas-tree ornaments, lights, stands, dolls, toys, candy containers, books and even paper napkins are being bought and sold by collectors.
I have started collecting Crayola crayon memorabilia -- the special tins issued at Christmas, old full boxes of crayons, pins, magnets, puzzles, toys and lunch boxes. What are the very early items I should look for? Most of my collection was made after 1985.
The first Crayola crayons were made in 1903 by Binney & Smith, a company that made carbon black for printing and shoe polish, paints, dustless chalk and other related products. Its 1903 box of eight crayons sold for 5 cents. Many versions of the box have been made since then. Look for the boxes at house sales and flea markets. Most other Crayola collectibles are not old.
Which is older, a menorah (multibranched candelabra) with seven arms, or one with nine arms?
The menorah is used as part of Jewish religious rituals. The seven arms of the candelabra represent the seven days of the week. A special menorah is used for the holiday of Hanukkah, the Feast of Lights. It has eight arms, representing the eight days a single day's worth of oil burned in the Temple in Jerusalem. The ninth arm, always higher than the other arms, is for a candle that is used to light the other candles. Both types of menorahs have been made for centuries.
Someone told us that our dark wooden stool is a gout stool. Have you ever heard of this?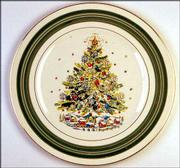 Yes. A gout stool (also called a gouty stool) has an adjustable seat that can be raised or lowered from either side. The stool was designed to help a person suffering from gout, a particularly painful form of arthritis that can attack feet. A gout stool would help the stricken person stand up. One is pictured in Hepplewhite's "The Cabinet Maker and Upholsterer's Guide" (1788). Nineteenth-century gout stools sell for $100 to $500.
My father bought a 35-cup gold-plated electric coffee percolator about 1947. We have the instructions that came with it. The egg-shaped percolator with a spigot near the base was made by Robeson-Rochester Corp. of Rochester, N.Y. It was hardly ever used, and it still works. It originally cost $100, a hefty price at the time. There is a dispute in my family now regarding its value. Can you help?
If you sold your coffeemaker today, it is unlikely that you would get as much as your father paid for it. Robeson-Rochester Corp. was formed in 1922, when Rochester Stamping Co. and Robeson Cutlery merged. The firm produced a full line of electrical appliances, including percolators, waffle irons, mixers, toasters and fans. Robeson-Rochester thrived after World War II and through the 1950s. It made a wide range of electric percolators in various sizes and styles. If someone in your family decides to keep the percolator and use it, be sure an electrician checks the cord.
You recently answered a question about a Shawnee Pottery Smiley Pig cookie jar wearing overalls decorated with red flowers and green circles. My Smiley Pig is also marked "Shawnee U.S.A.," but he's wearing a green scarf and brown overalls with gold trim. Is he valuable?
Your cookie jar is another variation of Shawnee's Smiley Pig. Shawnee Pottery was in business in Zanesville, Ohio, from 1937 until 1961. Your Smiley Pig, with gold trim, is valued at $500 today.
Tip
To remove wax from a Hanukkah menorah or another candleholder with small candle cups, run hot water in the holes or use a hair dryer to warm the metal, then remove the wax with cotton swabs.
Current prices are recorded from antiques shows, flea markets, sales and auctions throughout the United States. Prices vary in different locations because of local economic conditions.¢ Fenton glass Christmas bell, hobnail, ruby, 1981, 5 inches, $20.¢ Sheet music, "Have Yourself a Merry Little Christmas," Judy Garland, 1944, $50.¢ Mattel Eskimo Barbie, International Series, box, 1981, $85.¢ Royal Bayreuth plate, Snow Babies sledding with dog, ruffled edge, 5 1/4 inches, $150.¢ Child's sled, bentwood, plant and steel mounts, red ground, floral stenciled seat, "Made by Paris Mfg. Co., South Paris, Me., U.S.A., No. 63," 33 x 11 inches, $345.¢ Coca-Cola sign, snowman holding bottle of Coke, cardboard, string hanger, 1941, 16 x 27 inches, $415.¢ Fireplace mantel, classical, oak columns, bow front, shelf with mirror, c. 1905, 80 x 60 inches, $510.¢ Raggedy Ann and Andy cloth dolls, beanbag, red mop hair, 1970, Knickerbocker, 12 inches, $595.¢ Appliquid quilt, poinsettias, 30 squares, embroidered stems and leaves, red-and-green border, 1930s, 82 x 96 inches, $625.¢ Classical carved sofa, mahogany and mahogany veneer, rolled crest, acanthus-carved panel back, upholstered, dolphins-and-flowers carved skirt, paw feet, 1825, 33 x 78 inches, $1,645.
Copyright 2018 The Lawrence Journal-World. All rights reserved. This material may not be published, broadcast, rewritten or redistributed. We strive to uphold our values for every story published.