Seattle — The Boeing Co. will launch its first new jet design in 13 years, the 7E7 Dreamliner, as it works to regain aircraft leadership from European rival Airbus by pinning its future on a lighter, roomier, more fuel-efficient jet.
Tuesday's announcement of plans to start selling the mid-size, 200-plus passenger jet capped a two-day meeting of the company's board of directors and comes just two weeks after a top-level shakeup forced by an ethics scandal and worries about Boeing's direction.
The announcement ended an intense rush by other communities to land assembly work for the new jet, which Boeing will build at its Everett, Wash., plant. The 7E7 eventually will come in three models and fly 200 to 250 people up to 8,300 miles nonstop.
The jet couldn't be formally launched until mid-2004, or even enter the market before 2008. But a decision to begin offering it for sale is an important landmark for a company that has been overtaken by Airbus in the airplane-manufacturing business it had long ruled.
Using more composite materials than metal, the plane would weigh less and use 20 percent less fuel than other models. It also would have bigger windows and slightly wider aisles and seats than other planes. Boeing would sell the jet as a replacement for the 757 and 767, with greater range to handle long-distance routes.
Boeing had not approved any all-new airplane program since the 777 in 1990. Pressure to commit to the 7E7 had grown since the aerospace giant pulled away from launching the 747X and the Sonic Cruiser in the past three years, while Airbus was pulling even in the commercial airplane market.
New CEO Harry Stonecipher strongly endorsed the building of the 7E7 on his first day in the top post. On Tuesday, Stonecipher said he's optimistic about the jet's prospects.
"We are 10 for 10 in bringing successful planes to market," he told a crowd of thousands of Boeing workers at a downtown convention center.
Everett, Wash., was chosen as the building site over Kinston, N.C.; Charleston, S.C.; and Mobile, Ala.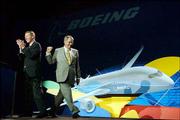 Although Boeing-Wichita will build some of the 7E7, Tuesday's decision on the plane's assembly site does not affect the Wichita plant, the company said.
"Of course, it is good news -- the decision to launch the airplane," said Boeing-Wichita spokesman Dick Ziegler. "As far as the final assembly site, we have nothing to say about that -- it has little or no impact on us down here."
Last month, Boeing announced it planned to build the forward fuselage section of the new 7E7 jetliner in Kansas, but said it was too early to talk about how many jobs the 7E7 work will mean in Wichita.
The company already builds the nose sections of the 737, 747, 767 and 777 models in Wichita. What makes the 7E7 work different is that Wichita will build not just the empty nose shell, but a "fully stuffed" section -- complete with air conditioning, electrical wiring and other components.
Gov. Gary Locke and the Legislature were determined to win the project, especially since being stunned two years ago by Boeing's decision to move its headquarters to Chicago.
The Associated Press Some significant dates in Boeing Commercial Airplanes' production history:¢ Feb. 15, 1965 -- First order received for Boeing 737 jet. Eventually, more than 5,200 737s will be sold, making it the world's most popular commercial jet.¢ March 1966 -- Boeing board of directors decides to build the 747, the world's first jumbo jet.¢ July 14, 1978 -- Production of the twin-jet 767 starts with order of 30 jets by United Airlines.¢ April 1979 -- Boeing gives the go-ahead for production of the 757, an efficient single-aisle jet that can fly short- or long-range routes.¢ 1990 -- Boeing board approves production of 777, the first jetliner to be completely designed by using three-dimensional computer graphics -- eliminating the need for a costly full-scale mock-up.¢ June 7, 1995 -- First 777 enters service.¢ March 2001 -- Boeing announces plans for the Sonic Cruiser project, a plane that would travel near the speed of sound.¢ 2001 -- Boeing shelves plans for larger, updated 747 jumbo jet, dubbed the 747X.¢ Dec. 20, 2002 -- Boeing announces it is scrapping plans to build the Sonic Cruiser.¢ Oct. 16, 2003 -- Boeing announces it will end production of the 757.¢ Dec. 16, 2003 -- Boeing announces it will offer the 7E7 Dreamliner for sale to airlines and build the jet in Everett, Wash.
This summer, they agreed to grant the aerospace industry tax breaks totaling $400 million through 2009 -- and potentially worth $3.2 billion over 20 years -- if Boeing built the 7E7 here.
Washington state politicians were jubilant at the news.
"One hundred years ago this week, the Wright brothers launched the Age of Flight," noted U.S. Sen. Patty Murray. "Today we proved that Washington has the right stuff to lead the next century of aviation."
A plane the size of the 7E7 is in demand, an analyst said, adding that Boeing's decision likely will boost workers' morale.
"This is what they needed to do for a very long time," said Richard Turgeon of Victory Capital Management. "It's a good thing for the company all around."
Japan Airlines, reportedly a potential launch customer for the 7E7, remains undecided, a spokesman said.
Boeing made presentations to the airline this fall, and "we have been making our own internal study as we will eventually need replacements for our older Boeing 767 aircraft and Airbus A300 types," JAL spokesman Geoffrey Tudor said in Tokyo. "We have made no decision or commitment on the 7E7."
Boeing has been battered by bad news since its move to Chicago in 2001, from the global aviation downturn after the 2001 terrorist attacks to recent scandals involving government contracts.
Former CEO Phil Condit resigned Dec. 1 amid a series of ethics scandals in the company's defense business.
Last month, Boeing fired its chief financial officer, Mike Sears, for unethical conduct, saying he negotiated the hiring of an Air Force missile defense expert while she was still working for the Pentagon and was in a position to influence Boeing contracts. Sears has denied any wrongdoing.
The company also dismissed the former Air Force official, Darleen Druyun, who was hired earlier this year as vice president and deputy general manager of Boeing's Missile Defense Systems unit.
The government also withdrew $1 billion in satellite contracts from the company in response to Boeing's admission that it had information about a rival's bid for the work.
The Pentagon also is reviewing a contract to acquire Boeing 767 refueling tankers that had come under harsh criticism in Congress over its price.
Boeing's shares gained 73 cents to close at $39.93 Tuesday on the New York Stock Exchange.
Copyright 2018 The Associated Press. All rights reserved. This material may not be published, broadcast, rewritten or redistributed. We strive to uphold our values for every story published.