Ashley Hocking of Lawrence wants to be a pop star just like Jennifer Lopez.
But the 8-year-old knows that she still has a long way to go. That's why, if Ashley can't become a pop princess now, she said she would rather look and dress like one instead.
So for her eighth birthday, she invited seven of her friends to Statements Hair Salon, 2500 W. Sixth St., for a "glamour girl" birthday party.
The girls dressed up and rode in a limo that Ashley's mom, Carmen Hocking, rented to the salon. And for two hours, the little divas had their hair, makeup and fingernails done by professional stylists.
"Real pop stars always get their nails and makeup done," Ashley Hocking said. "It was one of the best days in my life because (it's) not every day you can go into a limo and have friends over and have a party. It's high class."
Glamour girl birthday parties are nothing new for Statements. For the past three years, the salon has thrown more than 25 glamour girl parties, said Lisa Stuart, co-owner of the salon.
"Every girl likes to be a princess," Stuart said. "We thought that it would be fun."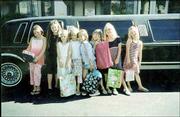 Although the parties are mainly geared toward girls around Ashley's age, the salon has thrown parties for girls as young as 5 and as old as 10, said stylist Donna Clarkson, of Tonganoxie, who also helps with these parties.
"It's always fun to act older than what you are," she said. "It makes them feel so special that they get to wear makeup, especially since their parents won't let them."
Although some people may question whether girls that age should get their hair, nails and makeup done, Marta Vicente, assistant professor in women's studies and history at Kansas University, said it's nothing that society should worry about.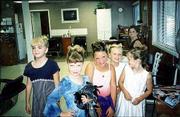 "I don't think that we need to worry too much about girls dressing up and playing the adult life for a while," Vicente said. "I know that it's a little bit weird because they're not supposed to do that. But what harm can they do?"
For Carmen Hocking, the party allowed her daughter and her friends to feel special for one day.
"I don't think that it brought across any negative type of message," she said. "All of the girls did tell me that that they felt so grown up and they knew that this was a temporary thing. The intent was just to have a fun day."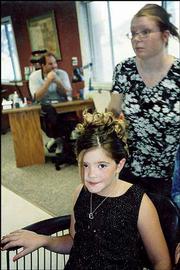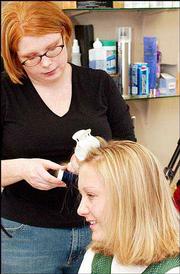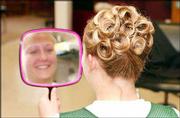 Dress-up isn't just for younger girls. School dances like Free State High School's Winter Formal give teens a chance to be glamorous for a night. Ashley Wagner, a Free State junior, was one of several girls with appointments at Statements Hair Salon on Saturday, getting ready for the dance that evening. Above, stylist Donna Clarkson begins an updo for Wagner; below, Wagner admires the finished product. Clarkson said the salon was booked Saturday; girls came in for manicures, too, earlier in the week.
Copyright 2018 The Lawrence Journal-World. All rights reserved. This material may not be published, broadcast, rewritten or redistributed. We strive to uphold our values for every story published.