Chantilly, Va. — A small group of protesters briefly disrupted the official opening of the National Air and Space Museum's new annex at Dulles International Airport Monday, spilling a red liquid supposed to resemble blood near the Enola Gay exhibit and throwing an object that dented the airplane.
Two men were arrested after security broke up the demonstration. Thomas K. Siemer, 73, of Columbus, Ohio, was charged with felony destruction of property and loitering, while Gregory Wright of Hagerstown, Md., faced a misdemeanor loitering charge.
Several elderly atomic bomb survivors from Japan also expressed dismay that information on the effects of the bomb dropped Aug. 6, 1945, by the Enola Gay on Hiroshima was not included in the exhibit.
"If they want to show these planes, that's fine but we can't help but also demand that they show the damage and the stories that take place behind these weapons," said Terumi Tanaka, 71, a survivor of the Nagasaki atomic bomb attack, which occurred three days after Hiroshima.
A total of 230,000 people were killed in the two attacks. Japan surrendered unconditionally six days after the Nagasaki bombing.
Some visitors at the opening of the Steven F. Udvar-Hazy Center said, however, they considered the Enola Gay an important part of aviation history.
"The Hiroshima bomb started the whole nuclear age, that's why I wanted to see it," said Philip Wheaton, 78, of Takoma Park, Md.
The Enola Gay is one of 82 racers, gliders, helicopters, warplanes and airliners currently on display in the Smithsonian Institution's nearly 294,000-square-foot aviation exhibit hanger. Other notable exhibits include the S-R 71 Blackbird, an American spy plane that still holds the record as the fastest plane ever built; and the space shuttle Enterprise, which was used by NASA to test various concepts during the development of reusable spacecraft.
The Smithsonian's aerospace collection also will eventually be displayed in the 53,000 square foot James S. McDonnell Space hanger.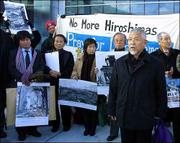 "This is the largest air and space exhibition complex in the world," said retired Gen. John R. Dailey, director of the museum. "We have about 40 percent of the aircraft in here today, and over the next three years we'll be moving more in."
Copyright 2018 The Associated Press. All rights reserved. This material may not be published, broadcast, rewritten or redistributed. We strive to uphold our values for every story published.