Washington — Saddam Hussein's capture lifted a huge political weight from President Bush after months of rising casualties and growing doubts about his handling of Iraq. Around the world, it sent a thundering message of America's resolve to prevail in the war against terrorism.
The persistent violence and growing death toll of American soldiers had opened the way for criticism that Bush lacked a postwar strategy for restoring stability in Iraq. Americans wearied of scenes of suicide bombings and flag-covered coffins at funerals, and the polls showed the nation was evenly split on approval of Bush's handling of Iraq.
But with Saddam's capture, the critics were silenced, at least for the moment, and Bush was expected to get a big boost in the polls as he moves into a re-election year.
"The Democrats can't touch him at the moment," said Columbia University historian Henry Graff. "He said he was going to get him. He got him. What more do you want? Now if we can lower the level of violence over there, he's going to look good."
Democratic presidential candidates, divided between pro- and anti-war positions, found consensus by saying it was a great day for U.S. soldiers, the people of Iraq and the world -- omitting praise for the president.
"This is a huge victory for Bush. It's clear by getting Saddam early, bringing him to trial, the president can send out a message that he's winning the war on terror," said Democratic strategist Donna Brazile, who managed Al Gore's 2000 campaign.
The news from Iraq also puts a new and potentially uncomfortable spotlight on former Vermont Gov. Howard Dean, the front-runner for the Democratic presidential nomination whose candidacy gained energy, converts and money from his outspoken opposition to the war in Iraq -- and who is scheduled to deliver a major foreign policy address today.
Dean's rivals, led by Sen. Joseph Lieberman, Conn., sought to use Saddam's capture to argue anew that Dean's inexperience in national security could prove an enormous liability to the party if he becomes the nominee in 2004. "If Howard Dean had his way," Lieberman told reporters, "Saddam Hussein would still be in power today, not in prison."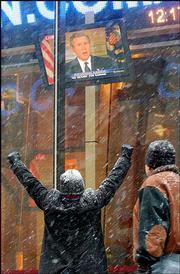 Copyright 2018 The Lawrence Journal-World. All rights reserved. This material may not be published, broadcast, rewritten or redistributed. We strive to uphold our values for every story published.