Choosing the right Christmas tree can be one of the most important decisions you make during the holiday season, and with all the different varieties of trees out there it can get complicated.
Which trees last the longest? Which are good for budget buyers? Which need the most care? To answer these questions and others, we talked to an expert in the Christmas tree business.
For the past 25 years Bud Lyon has been active with both the California Christmas Tree Assn. and the National Christmas Tree Assn. Here he offers a basic guide to different varieties of Christmas trees:
Leland Cypress. Lyon loves the Leland Cyprus. It's a great choice for buyers with allergies, as it's a non-allergenic tree. It also holds onto its needles exceptionally well.
Douglas Fir. The Douglas Fir is a great choice for budget-minded buyers because it's less costly for farmers to grow. The tradeoff is that it doesn't keep as well as other trees, and it demands a bit more care and attention. Make sure to give Douglas Firs plenty of water all the time.
Scotch Pine. Lyon considers the Scotch Pine the "old standby." It was the first tree to be grown as a commercial Christmas tree, about a half-century ago. Once cut, the Scotch Pine is one of the best keeping trees, even with poor care.
A family decision. Choosing a tree can be a fun activity for the whole family, and a way of bringing everyone together. No matter what kind of tree you end up buying, Lyon stresses that the most important thing to remember is to keep that tree stand filled with water so your tree will last through the season.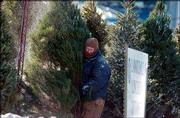 Maintaining care
Once you've decided what kind of tree you want, you need to know how to choose a healthy tree. Lyon has these tips for choosing and maintaining a fresh tree:
Needles. Early in the buying season, most of the cut trees should be fresh and healthy, but Lyon recommends trying the needle test to make sure. Take a needle and bend it over with your fingers. If it snaps like crisp celery, you have a very fresh tree.
Choose and cut. To absolutely guarantee freshness, Lyon suggests heading out to a tree farm and cutting your own. It's a great way to spend a holiday morning or afternoon with the family, wandering in search of the perfect tree and then cutting it down with a saw.
A fresh cut. Once you get the tree home, you'll have to put a fresh cut on it. When a tree is cut down, sap often clogs up the pores at the bottom of the trunk, so that the tree has difficulty drawing water. By cutting a little more off the bottom, you'll be opening up the pores so they'll drink again.
Water. To keep your tree from drying out, becoming brittle and dropping needles, you'll have to put it in a water stand. Choose a stand that can hold at least a gallon of water and make sure to keep that reservoir full as long as you keep the tree.
Now that the tree is set up and watered, all you have to is decorate it and enjoy its beauty.
Cut treeAdvantages¢ Fits with tradition¢ Smells nice¢ Finding perfect tree is fun for families¢ "Nothing like the real thing"¢ Supports tree farmers¢ Trees, while growing, put oxygen in atmosphere and can prevent soil erosion¢ Can be mulched when Christmas is overDisadvantages¢ Can be a fire hazard if allowed to dry out¢ Drops needles; messy¢ A hassle to bring home and then discard¢ May aggravate allergies in some people¢ You have to kill it to bring it homeArtificial treeAdvantages¢ Can be used over and over¢ Less expensive than buying a tree each year¢ Often less hassle, quicker to purchase and set up¢ Lights already added on some versions¢ If used for many years, doesn't add to landfillDisadvantages¢ Not the "real thing;" may not look right to some¢ Storage space needed to keep it for following year¢ Made from petroleum products, a nonrenewable resource¢ Difficult to recycleLiving treeAdvantages¢ It's real and living¢ Can be planted after the holidays¢ Stays fresh; not a fire hazard¢ Can be reused year after year, if kept as a potted plantDisadvantages¢ Large trees very expensive and heavy¢ Not everyone has a place to keep a tree, or interest in taking care of one¢ Limited number of varieties available
Copyright 2018 The Lawrence Journal-World. All rights reserved. This material may not be published, broadcast, rewritten or redistributed. We strive to uphold our values for every story published.