Seattle — Gonzaga has shown it can compete with the top programs in the NCAA Tournament. Now the Bulldogs are doing it in the regular season.
Ronny Turiaf scored 21 of his 23 points after halftime Saturday, and Blake Stepp added 14 points and 10 assists in No. 17 Gonzaga's 87-80 overtime victory over No. 3 Missouri.
Freshman Adam Morrison scored 12 of his 17 points in the first half as Gonzaga (7-1) won its seventh straight. Since a season-opening loss to Saint Joseph's, the Bulldogs have beaten Georgia, Maryland and Missouri (3-1).
"This shows we can play with anybody in the country," Gonzaga coach Mark Few said. "I hope that's what people will walk away and say. When we're playing well, like we did today, we can play with anybody."
The Bulldogs fought back from deficits of 67-62 with four minutes to play in regulation and 79-75 with three minutes to go in overtime. And it was Turiaf who led both charges.
He backed into the paint and flipped the ball in for a basket that gave Gonzaga an 81-80 lead with 1:01 to play in overtime. Then at the other end, he drew an offensive foul on Missouri's Rickey Paulding with 36 seconds remaining.
Turiaf played the final 4:31 in regulation with four fouls.
Paulding scored 23 points for Missouri, including a three-pointer with 10 seconds left in regulation that tied it at 73. Turiaf lost control of the ball on the ensuing possession, and the teams went to overtime.
Linus Kleiza had 16 points and 13 rebounds, while Travon Byrant scored 13 for the Tigers.
After two free throws by Morrison gave the Bulldogs an 83-80 lead with 30 seconds left in overtime, Paulding was called for another offensive foul.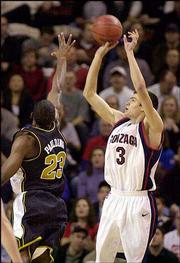 Stepp and Kyle Bankhead, who scored 11 points, each hit two free throws in the closing seconds. The Bulldogs scored the final eight points in overtime, all in the final minute.
No. 11 Oklahoma 83, Prairie View 56
Norman, Okla. -- Freshman Drew Lavender had 13 points and seven assists to lead Oklahoma over winless Prairie View A&M.; The Sooners (7-0) had what amounted to a breather after pulling out consecutive last-second wins over top-20 opponents Michigan State and Purdue.
De'Angelo Alexander added 11 points for Oklahoma. Reserves Jaison Williams and Johnnie Gilbert had 10 apiece.
Prairie View (0-5) shot only 32 percent, including 17 percent from three-point range. Only three Prairie View players scored in the first half.
Texas Tech 78,
San Diego State 68
Lubbock, Texas -- Andre Emmett scored 19 points as Texas Tech beat San Diego State.
Tech (8-2) led by eight points early in the second half, but San Diego State used a 6-0 run to cut the margin to 52-51 on a drive by Brandon Heath with 12:56 remaining. The Aztecs (5-3) kept it close, but couldn't overtake Tech.
The Red Raiders had five players in double figures. Ronald Ross scored 16 points, Darryl Dora added 14, Robert Tomaszek had 13, and Jarrius Jackson scored 10.
Heath scored 30 points for San Diego State.
Iowa St. 76, Liberty 58
Ames, Iowa -- Freshman Curtis Stinson had 17 points, 10 rebounds and five assists, and Iowa State remained unbeaten with a victory over Liberty.
Jared Homan added 15 points and four blocks, while Jake Sullivan scored 14 for the Cyclones, who made Wayne Morgan the school's first coach to start 5-0 in his first season.
Larry Blair led Liberty (3-6) with 23 points.
Nebraska 77,
Tennessee 62
Lincoln, Neb. -- John Turek scored 21 points to lead Nebraska over Tennessee. The Cornhuskers took advantage of dismal Tennessee shooting in the first half, building a 22-point lead midway through the second period. Nebraska (6-1) went up 50-28 with 12:25 remaining on a Jason Dourisseau dunk.
Texas-San Antonio 53, Baylor 48
Waco, Texas -- LeRoy Hurd scored 20 points, including seven in the final minutes, as Texas-San Antonio held off Baylor. Hurd also had 11 rebounds for UTSA (2-5), which led comfortably for most of the game before Baylor (3-4) went on a 16-4 run to pull within 44-42 with 2:39 left. Then Hurd made a layup, a jump shot and hit 3-of-4 free throws late to seal the game.
A&M-Corpus; Christi 82,
Texas A&M; 80
College Station, Texas -- Travis Bailey scored 22 points, and Brian Evans added 21 as Texas A&M-Corpus; Christi stunned Texas A&M; at Reed Arena. Texas A&M; (3-3) lost its third straight game, its first at home. Freshman point guard Acie Law led four A&M; scorers in double figures with 15 points and five assists.
The Islanders (4-3) jumped all over the Aggies in the opening minutes of the second half, going on a 16-2 run to take a 51-41 lead.
Copyright 2018 The Associated Press. All rights reserved. This material may not be published, broadcast, rewritten or redistributed. We strive to uphold our values for every story published.