Seabury Academy boys coach Marcus Heckman knew before the season his Seahawks would take their share of lumps.
Friday night's home clash with Midway-Denton was one of those lumps.
The Seahawks led for most of the first quarter because of early success from beyond the three-point arc, but soon succumbed to the taller, stronger and more experienced Eagles, 72-42.
"They are obviously an example of a good 1A team," Heckman said. "They were loaded, so it's a good measuring stick for us. If that's where we want to be one day, we have a good idea of what it's gonna take."
Loaded may have been an understatement. Between 6-foot-4 workhorses Jacob Walsh and Brandon Boos in the post and long-range sharpshooting from Nick Hammersmith, the Eagles simply had too many weapons.
The Seahawks (0-5) did their best to slow down Midway, however, and actually had some success down low. They took away the inside game by getting Walsh and Boos in early foul trouble. Seabury didn't have anyone who could keep up with Hammersmith, though.
Scotty King and Adam Davis each drained early threes that gave Seabury a 6-2 lead. The Seahawks made all five free throws in the first quarter and led until David Scholz hit a trey at the end of the quarter that gave the Eagles a 14-13 lead. A 17-4 run in the second quarter was all Midway needed to take control.
Seabury may have been overmatched physically, but it never lacked effort. Heckman said his squad seemed comfortable handling the full-court press. It also had a season-low 15 turnovers -- those little steps Heckman is using to gauge success as his team matures.
"Every day at practice we have a quote for the day," Heckman said, "and the quote that I chose for the first practice was, 'courage is not defined by those who fought and did not fall, but those who fought, fell and rose again.' We've just gotta keep doing that. It will take courage for us to build this program, but I have courageous boys, and they'll do it. It's just going to take some time."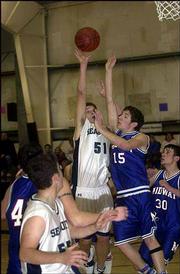 Davis led the Seahawks with 19 points, while Grayson Dillon added nine.
Midway-Denton 38, Seabury girls 23
For about 10 minutes of the Seabury girls' home-opener, the rims in their new gymnasium were friendly.
They held Midway-Denton to just four points in the first quarter and led 13-6 early in the second quarter. Lindsey Ahlen scored seven points in the opening run and Laura Frizell added 4, but then they stopped getting the lucky bounces. Seabury's shots rimmed out while the Eagles rattled and banked their baskets in a 13-4 run to close the quarter.
Down just two at halftime, the Seahawks (0-3) were shut out in the third quarter. They took just five shots, had six turnovers and gave up too many second-chance buckets.
"We stopped going after the boards, so that really hurt us," said Frizell, who led Seabury with nine rebounds. "They were getting second and third shots. Then we turned the ball over too much and were getting killed with steals."
Also contributing to Seabury's struggles was that Ahlen sat out most of the quarter to rest an ankle sprain. She returned in the fourth quarter, sparked the Seahawks' late offensive push and finished with a team-high 13 points.
Midway guards Stephanie Peters and Alena Cooney each scored 14 points. Both were extremely quick, while Cooney was lethal with her three treys.
"I thought we played with good energy and I was encouraged by the effort of our girls," Seabury coach Eric Nelson said. "Midway had strong guard play, and their two guards were really the difference in the game."
Copyright 2018 The Lawrence Journal-World. All rights reserved. This material may not be published, broadcast, rewritten or redistributed. We strive to uphold our values for every story published.