Kansas City, Mo — Oregon senior Luke Jackson, who is 1-1 in games against Kansas University during his college career, hopes to break the tie in an exciting fashion today at Kemper Arena.
"I love playing the Jayhawks," the Ducks' 6-foot-7 senior All-America candidate told the Eugene (Ore.) Register-Guard.
"I love their style because they're not afraid to run with us. They feel like they are going to push it and hurt us. We feel we're going to push it, and it's going to hurt them. It's going to go back and forth."
Tipoff for today's nonconference clash between the No. 5-ranked Jayhawks (4-1) and unranked Ducks (3-0) is 1 p.m., with a live telecast on ESPN (Sunflower Broadband Channel 48).
Jackson, who was hounded by Jeff Boschee and Keith Langford, scored 10 points off 4-of-16 shooting in Oregon's 104-86 loss to KU in the 2002 NCAA Midwest Regional championship in Madison, Wis.
Last year, Jackson exploded for 26 points off 9-of-19 shooting in the Ducks' 84-78 regular-season victory over KU at the Rose Garden in Portland, Ore.
KU's Langford, who has had classic matchups against Jackson in the past, scored 20 points in the Elite Eight game and 21 in last year's loss in Portland.
"Keith Langford is a guy we are going to have to keep an eye on," Jackson, of Creswell, Ore., told the Register-Guard. "Keith scores best when he is in transition. He's not going to dominate in the half-court offense. He's capable of doing that, but he's most effective in the open court.
"He's kind of the perfect player for their system."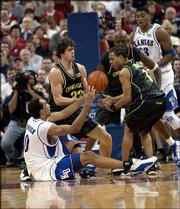 As Jackson is a perfect player for the Ducks' running offense. He averages 21 points and seven rebounds a game. He has made 50 percent of his shots and nine of 17 three-pointers.
"He is a terrific shooter, one of the premier players in America," KU coach Bill Self said. "He can score off the catch and off the bounce. And he is a great rebounder."
So who will guard Jackson today?
"Well, if I told you everything ..." Self said with a laugh. "We'll have a game plan on who will guard him. One guy will not check him the whole game. A lot of guys will be prepared to guard him."
Oregon coach Ernie Kent knows his team has a tough task ahead.
"It's going to be a game of trying to focus on what they like to do and take those things away, or at least limit them to the best of our ability," Kent said.
"Composure is going to be a huge factor. Our toughness is going to be a huge factor, how we handle pressure is going to be a huge factor. But that's all good stuff for us. It will force us to grow, and we're going to have to handle that environment."
Kent realizes playing KU in Kemper Arena won't exactly feel like a neutral site.
"It might as well be at Allen," Kent said of the Jayhawks' home court. "It's just down the road, and it'll be full of Jayhawks. With ESPN there, it has all the makings of a big-time college game environment. There should be some excitement there, and we're going to need to make sure we're ready to play."
Self also expects an exciting game that could become a high-octane shootout. Oregon averages 77.3 points a game and KU 78.8 with both teams capable of scoring in the 90s.
"It's called the 'Feist Shootout' so it has to be a shootout," Self quipped. "They want to play fast, and for whatever reason we have not played as fast as we need to play. I think it'll be an exciting game. I have a lot of respect for what they are doing.
"They are sound, can guard you and score. Teams that can score are dangerous."

Injury update: Mitch Platt, a 6-10 freshman from Henderson, Nev., who suffered a high ankle sprain in the Ducks' last game against Marshall, is out indefinitely.
"He doesn't have a fracture, so that's the good news," Kent told the Register-Guard. "It's not as severe as it could have been. He's extremely doubtful."
A starter, Platt averages 5.3 points and 5.3 rebounds.
Jay Anderson, a 6-9 senior who has averaged two points and 3.7 rebounds, will start in Platt's place.
Matt Short, a 7-foot sophomore, is expected to be available for the first time this season. He has been out with a stress fracture in his ankle.
Copyright 2018 The Lawrence Journal-World. All rights reserved. This material may not be published, broadcast, rewritten or redistributed. We strive to uphold our values for every story published.