Cincinnati — The invitation surprised Jon Kitna.
Until the phone rang, he had no reason to consider pro football. No NFL team had showed the slightest interest in an NAIA quarterback with a limited arm and unlimited heart.
He was happy to be teaching at Central Washington, completing his degree in math education and getting on with his life after leading the Wildcats to the NAIA title game in 1995.
"I thought my football career was over," he said.
Wrong. Eight years later, Kitna has the Cincinnati Bengals in playoff contention, winning league accolades along the way. He traces all of it back to one life-changing call.
On the other end was Jamie Christian, calling with an intriguing offer.
Christian was a running back on Kitna's team at Central Washington. He also had a connection.
Christian's uncle is Dennis Erickson, who was coaching the Seattle Seahawks at the time. He had attended their games at Central Washington, and was arranging for the two of them to work out for some NFL scouts.
"It was kind of a made-up deal before the draft," Christian said. "The only reason I probably got a chance to try out was because of my uncle's connections."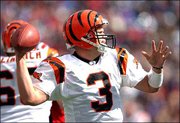 Did the math teacher want to come along?
Absolutely.
They packed their gear in the car, drove through the mountains, met up with Erickson and got ready for the scouts to arrive and check them out.
"He said to go down to the locker room, just hang out, they'll be here shortly," Kitna said. "We sat around for two hours. Nobody showed up. Not even his own scouts showed up.
"He came down and kind of felt bad that we were sitting there, and worked us out himself."
The running backs coach and the Seahawks' personnel director watched Kitna throw passes and Christian make cuts. One of them had made an impression.
"I'd seen Jon play before," Erickson said. "You knew he was a winner. He got rid of the ball. He was smart."
On draft day, Kitna got the first real hint of unexpected opportunity. The Seahawks called at the start of the seventh round, saying they were interested and wanted to know if any other team had contacted him. Silly question.
"Nobody else has called me," Kitna told them.
When the Seahawks' turn arrived, they picked ... Johnie Church from Florida. Then, they called Kitna and offered to sign him as a free agent.
"I wouldn't have gotten a chance anywhere else," Kitna said. "Nowhere else."
The rest is family history.
Kitna made the Seahawks' practice squad in 1996, played for Barcelona in the World League and was MVP of the league's championship game. By the end of the 1998 season, he was the Seahawks' starting quarterback.
He led Seattle to the playoffs in 1999, and has the Bengals (7-6) in the hunt for their first postseason appearance since 1991. He was the AFC offensive player of the month in November.
To stay in the race, they have to beat the 49ers Sunday at Paul Brown Stadium, where three paths will be entwined again. Erickson is in his first season as the head coach at San Francisco (6-7).
"I'm very indebted to coach Erickson for everything," Kitna said. "If it wasn't for him, I wouldn't be in this league right now. That was the tool that God used to get me into this league.
"It was him having a soft spot in his heart for me and giving me an opportunity, seeing something that nobody else saw. So it's somebody that I care a lot about."
Also with the 49ers is Christian, who is helping his uncle as an assistant defensive coach. Like Kitna, he never got drafted. Christian worked as a juvenile corrections officer for four years, then got into coaching.
Copyright 2018 The Associated Press. All rights reserved. This material may not be published, broadcast, rewritten or redistributed. We strive to uphold our values for every story published.