New York — Pittsburgh receiver Larry Fitzgerald knows the odds are stacked against him this week in the Heisman Trophy race.
No sophomore ever has won the award, only six winners didn't play quarterback or running back, and only one of the last 46 winners played for a four-loss team like Fitzgerald's Panthers.
"I still think I have a chance," he said. "They wouldn't have invited me if I didn't."
Fitzgerald sure does. He is considered a co-favorite along with Oklahoma quarterback Jason White for college football's most prestigious award when it's handed out tonight.
Fitzgerald and White will be joined in New York by Mississippi quarterback Eli Manning and Michigan running back Chris Perry.
White appeared to be a lock to win the Heisman Trophy until he flamed out in the Big 12 Conference title game. Luckily for White, he was not alone.
Three of the four Heisman finalists had their worst games of the season with conference championships on the line.
White threw at least two touchdown passes every game until wilting against the heavy pressure from Kansas State's defense Saturday in the Big 12 championship game.
White went 27-for-50 for 298 yards, no touchdowns and two interceptions in the 35-7 loss, turning what looked like a Heisman runaway into a potentially close race.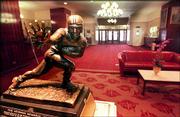 "Some guys are sitting at home relaxing and not playing, and others are playing a championship game against one of the best teams you will play the entire year," Oklahoma coach Bob Stoops said. "I believe most people will take that into consideration."
White was the only finalist who played last weekend, after some of the 922 ballots already had been sent in.
Manning was at home after completing only 44 percent of his passes in a November showdown against LSU, costing Ole Miss a chance to play for the SEC championship. Fitzgerald was recovering from a three-catch effort against Miami in a loss that cost the Panthers a share of the Big East title.
Only Perry -- a long shot to win the award -- delivered when it counted most. He capped a spectacular season with a 204-yard, two-TD game in a 35-21 victory against Ohio State that sent Michigan to the Rose Bowl.
Still, this year's Heisman vote figures to be a two-man race between White and Fitzgerald.
Fitzgerald is hoping to be the first pure receiver to win the award. Desmond Howard, Tim Brown and Johnny Rodgers also returned kicks when they won the Heisman.
But none put up numbers like Fitzgerald, who had 87 catches for 1,595 yards and 22 touchdowns. Fitzgerald has caught a touchdown pass in a record 18 consecutive games dating to last season.
"I do think quarterbacks and running backs have an advantage because they get the ball in their hands a lot more, especially the quarterbacks," Fitzgerald said. "They probably handle it 300 times a season and I don't come close to that."
Few could have envisioned White coming to New York for the Heisman ceremony when his career took a second major jolt Sept. 7, 2002.
White crumpled to the turf because of a torn ligament in his right knee, ending his season and putting his career in jeopardy. White considered quitting because he tore up the other knee a year earlier.
"My individual goal to start the season was just to stay healthy," White said. "I wouldn't even have put myself in the top 100 for this award so this is a dream come true."
White, the AP Player of the Year, led the nation in passing efficiency.
Copyright 2018 The Associated Press. All rights reserved. This material may not be published, broadcast, rewritten or redistributed. We strive to uphold our values for every story published.