Abby Huckvale has found duct tape indispensable for holding together the old and battered uniforms of the Kansas University marching band.
Since the uniforms were purchased in 1978 -- before most of the musicians donning them were born -- many of the uniforms have faded, become frayed or have lost parts. The manufacturer no longer makes replacements, so having the right combination of sizes to fit band members can be a challenge.
"I've done a lot of things with duct tape," said Huckvale, who manages the uniforms. "In an emergency, duct tape does wonders."
Larry Tenopir hopes those makeshift repairs won't be necessary next season. Tenopir is leading an effort by the Topeka Jayhawk Club, an athletic booster group, to purchase new uniforms for the band.
He hopes it will be one step in increasing the band's dwindling membership, which has gone from 275 marchers 15 years ago to about 140 this year. It's one of the smallest bands in the Big 12.
"When we socialize, we tend to complain about things we wish were better," said Tenopir, a Topeka attorney. "The marching band's deterioration has been one of those things. It was a perfect project for us."
In all, KU officials hope to raise money for 300 uniforms. At $467 apiece, that amounts to about $140,000.
"I think one of the important differences between college football and pro football is the pageantry," Tenopir said. "You can feel it in the air -- it's a completely different feel. And the marching band has a lot to do with that."
The Topeka Jayhawk Club already has raised funds for nine uniforms. Leaders sent a mailing to about 1,000 football season ticket holders in the Topeka area last week, asking them to contribute to the effort.
"The dream we have is that there will be other persons who will see the campaign the Topeka Jayhawk Club has initiated and step forward and help out in their own cities," Hedden said.
If the money is raised by March, the band could be wearing the uniforms next fall.
James Hudson, the band director, plans to begin work on a potential uniform design after the band returns from Orlando, Fla., where it is performing Dec. 22 in the Tangerine Bowl.
"I think we're obliged to have a couple of things happen" on the design, he said. "First, we have a lot of tradition here. But we also need something that's going to really stand out and make us unique. I'm sure people in the stands will be able to tell there's a change."
Hudson said the bowl trip combined with new uniforms could be "huge" for recruiting next year.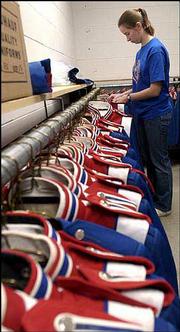 "It couldn't come at a better time when we're trying to rebuild the program," he said.
Huckvale, the Winfield senior who oversees the uniform fleet, agreed.
"What we look like is really important, and the uniform is a big part of that," she said. "With a marching band, sound is only part of the bigger picture."
ombeck can be reached at 832-7145.
To contribute to the fund for new marching band uniforms, mail a check to the KU Endowment Association, Attn: Anne Johnson, P.O. Box 928, Lawrence 66044. Checks should specify "KU Marching Band uniforms."
Copyright 2018 The Lawrence Journal-World. All rights reserved. This material may not be published, broadcast, rewritten or redistributed. We strive to uphold our values for every story published.