Warwick, R.I. — The owners of the nightclub where 100 people were killed in a February fire were indicted on involuntary manslaughter charges Tuesday along with the tour manager for the heavy metal band whose pyrotechnics sparked the blaze.
Club owners Jeffrey and Michael Derderian and Great White tour manager Dan Biechele each were charged with 200 counts of involuntary manslaughter -- two for each death.
Rhode Island Atty. Gen. Patrick Lynch said the men were charged with two types of manslaughter: one for "gross negligence," the other for committing a misdemeanor such as a fire code violation that led to a death.
Lynch said Biechele was charged under both standards because he lit the stage fireworks. In the case of the owners, the "gross negligence" applies to how they maintained the club. The other charges cover their installation and maintenance of the club's flammable soundproofing foam that caused the blaze to spread rapidly.
Involuntary manslaughter carries up to 30 years in prison.
All three men pleaded not guilty Tuesday, and they were released after posting bail. Bail for the club owners was set at $5,000 cash, while bail for Biechele was set at $10,000 cash.
"They are not criminals. They did not commit any criminal acts and they should not be charged with any crime," said Jeffrey Pine, attorney for Jeffrey Derderian.
"While we are deeply sympathetic to the victims, the fact remains that Dan Biechele is not guilty of the charges brought in this case," said Biechele's attorney, Tom Briody.
The indictment marks the first criminal charges to result from the Feb. 20 fire at The Station nightclub. About 200 people were injured in what was one of the deadliest nightclub fires in the nation's history.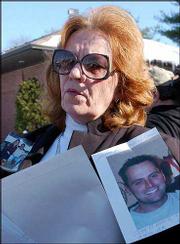 The fire started after the pyrotechnics were shot off just seconds into Great White's first song, quickly igniting the foam that had been placed around the stage as soundproofing. Thick smoke quickly spread through the club and within minutes, the one-story, wooden building was engulfed in flames, trapping clubgoers as they rushed toward the same exit.
In the wake of the fire, Gov. Don Carcieri called for emergency inspections of public buildings similar to the nightclub, and state lawmakers passed stringent new fire-safety standards.
Copyright 2018 The Associated Press. All rights reserved. This material may not be published, broadcast, rewritten or redistributed. We strive to uphold our values for every story published.