A Topeka man is working to build a nationwide volunteer organization of anti-terrorist tipsters to serve as the eyes and ears of law enforcement.
Motivated by the Sept. 11, 2001, terrorist attacks, Robert Lee Horton, 54, recently helped found what he calls the U.S. National Patrol.
For $25, members get a lifetime membership, an ID card and a trio of official-looking patches that must be sewn onto a black windbreaker.
Horton's group asks a seemingly simple task of its members: stay alert for suspicious activity -- whether it's terrorism or drug dealing -- and call police anytime you see it. Group members don't have any special legal powers and are instructed not to carry firearms or take the law into their own hands, Horton said.
"When you see someone, like, at a warehouse, and it's nighttime, and they're driving around with the lights out -- watch for things like that," said Horton, who wears four stars on his windbreaker to signify his self-proclaimed rank of "National Commanding General."
"Someone that's constantly circling a playground or looks abnormal -- watch them and be observant. Even though it may be legit, if you feel that it's suspicious, it very well may be. Just use common sense."
In a way, Horton is picking up where the government left off.
The U.S. Department of Justice caused an uproar after the 9-11 attacks by proposing Operation TIPS, a program that would have recruited legions of volunteers nationwide to watch for suspicious activity. Critics said the program would turn Americans against each other, and it died in 2002 with the passage of the bill that created the U.S. Department of Homeland Security.
Horton said he realized you couldn't identify would-be terrorists by their appearance, and he shrugs off the fact that some people might view his goals as troublesome.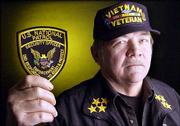 "We're not out there snitching on anyone," he said.
Horton's estimates of the group's size vary from 600 members to "720-plus" in five states: Kansas, Missouri, Mississippi, Texas and Oklahoma. Many members are fellow Vietnam veterans, he said.
"It ain't about me. It's about us as a whole: a force of one across America," he said.
He said he had received a commitment from Kansas Atty. Gen. Phill Kline to speak at the group's meetings. A Kline spokesman couldn't be reached Monday for comment.
The organization already has helped alert police to one case involving a pipe bomb and another involving marijuana, Horton said, but he wouldn't give details.
For more information about the U.S. National Patrol, contact Robert Lee Horton at (785) 640-6465 or at ns_volunteers@cox.net.
So far, he hasn't done much recruiting around Lawrence. Kenny Massey, a lieutenant with the Douglas County Sheriff's Office who coordinates the local Crime Stoppers tips hot line, said he wasn't convinced of the need for such a group.
"In regard to a uniformed-type organization, I don't see that serving any more of a function than a good neighborhood watch," he said.
Copyright 2018 The Lawrence Journal-World. All rights reserved. This material may not be published, broadcast, rewritten or redistributed. We strive to uphold our values for every story published.