MALIBU, CALIF. — Kansas University volleyball players missed the first flakes of snow to fall in Lawrence this season, and that was just fine with them.
And not just because they were having a sunny poolside retreat before a Wednesday afternoon practice.
The Jayhawks are enjoying their program's first-ever trip to the NCAA tournament. They will play Long Beach State at 6 p.m. CST today at Pepperdine University.
KU coach Ray Bechard is hoping his team is not satisfied with history already made.
"We want to play really well, we want to win a couple of matches, and we want to enjoy ourselves," Bechard said. In his sixth season at KU, the Jayhawks finished third in the Big 12 Conference race with a 13-7 mark, their best-ever conference record.
No matter what happens today, the 21-10 Kansas team already has put its name in the record book by becoming the first squad in the 28-year history of the KU volleyball program to make the tournament.
Neither that fact nor the triumphs and tears shared to get to this point are lost on senior Sarah Rome.
"History doesn't happen in a day," said Rome, who last week became KU's all-time kills leader with 1,275. "To make history, you need stepping stones. That's what three years ago was for us."
Four years ago, when Rome arrived in Lawrence from her home in Eagan, Minn., Kansas was happy just to be hovering around the .500 mark. In 2000, KU went 15-14.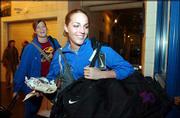 "That was the stepping stone to something great that has come to us today," she said. "It's been a hard fight all the way, and the NCAA tournament is going to be another dogfight."
It's a fight in which KU will be the underdog.
At 19-10, Long Beach State has a record similar to KU's, but there's a big difference: The 49ers have been this far before.
Actually, they've been quite a bit farther.
Long Beach State has won three NCAA volleyball championships since 1989 and qualified in 17 straight NCAA tourneys.
Despite the odds and the new setting, Kansas players said they were staying focused on the competition -- but want to have fun at the same time.
"We're trying really hard to stay focused," said sophomore setter Andi Rozum, who probably will bring the biggest KU cheering section to Pepperdine -- she has several relatives living in the Los Angeles area. "But there's always going to be that excitement factor."
Copyright 2018 The Lawrence Journal-World. All rights reserved. This material may not be published, broadcast, rewritten or redistributed. We strive to uphold our values for every story published.