Topeka — In a historic ruling sure to vex the governor and lawmakers in the coming legislative session, a judge Tuesday declared the Kansas school-finance system unconstitutional and gave lawmakers until July 1 to fix it.
In his order, Shawnee County District Judge Terry Bullock said the state was shortchanging public schools, especially minority and disadvantaged students, by about $1 billion.
He said the unequal disbursement of education funds in Kansas was a blatant violation of state and federal constitutional provisions.
And he was incredulous of state claims that classroom achievement wasn't tied to funding.
"Money doesn't matter? That dog won't hunt in Dodge City!" Bullock wrote.
House Speaker Doug Mays, a Topeka Republican, said complying with the judge's order would mean a tax increase so big it "would be a crushing blow to the economy of this state and would send us into a death spiral."
Mays said the political realities were that, despite the judge's order, there would be no such tax increase because all legislative seats would be up for election in 2004.
"I know that is distasteful to some, but that's reality," Mays said. "The votes are not there for a tax increase."
In addition, he said, the Legislature cannot be ramrodded by a judge on school finance, a subject which he described as "intricate and Byzantine."
"We need to take our time and do what's right for the children of Kansas," he said.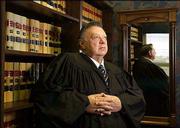 Order applauded
Gov. Kathleen Sebelius and Kansas Atty. Gen. Phill Kline issued brief statements that ignored Bullock's condemnation of the finance system.
But school supporters and the lead attorney representing the plaintiff students applauded Bullock's order.
"Wow! What a strong opinion, and what a great day for Kansas and for Kansas kids," said Alan Rupe, the lead attorney for the plaintiffs. "I want the governor and the Legislature and everybody who continues to give lip service to education finance to put their money where their mouth is. This is a constitutional responsibility to our kids."
Bullock's ruling amounted to a court-ordered tax increase for schools, Rupe said.
The state spends $2.6 billion, about 52 percent of its total annual budget, to educate nearly 470,000 students. A $1 billion increase would require a tax increase equivalent to a 3-cent increase in the state sales tax, significant budget cuts or a combination of both.
Senate President Dave Kerr, R-Hutchinson, said such a funding boost "would give taxpayers enormous heartburn if it were the subject of a tax increase, and it would devastate the state budget if we were to take it from the other 48 percent that wasn't going to education. It would wipe out higher education and many other parts of the state budget entirely."
But Rupe disagreed.
Constitutional priorities
"I think there is money in the state to put a billion dollars into education," Rupe said.
"The last time I looked there was not a Wildlife and Parks, and/or a tourism article in the Kansas Constitution," he said. "What the Constitution does is establish our priorities, and those priorities according to Judge Bullock are education first.
"All those legislators who signed the oath of no more taxes are in a real dilemma. They can either fund education the way it is supposed to be funded or they can break their oath, but they can't have it both ways."
If Sebelius and the Legislature fail to increase school funding and change the disbursement method during the 2004 legislative session that starts in January, Rupe said he would go back to Bullock and ask the judge to sign a warrant on the state treasury for the additional money.
"This is not a political ball we are bouncing back and forth. Article 6 of the Kansas Constitution requires suitable funding for education, and it ain't happening and it should, and it's going to happen. I'll be back there on July 2, saying move the money," Rupe said.
In an order Tuesday, a Shawnee County District Court judge said:¢ The state's school-finance system is unconstitutional and must be fixed by the governor and Legislature by July 1.¢ Kansas is failing to adequately educate all students, and poor and vulnerable students are the most dramatically affected.¢ As a preliminary order, it cannot be appealed until after the July 1 deadline.¢ If the flaws are fixed to the judge's satisfaction, he will dismiss the case. If no changes are made, the judge said he would "enforce our Constitution if the other branches of government fail to do so."
Under the Constitution, the Legislature is required to "make suitable provision for finance of the educational interests of the state."
System lambasted
In the order, Bullock ripped apart the state's defense of the school-finance system, saying that not only was it underfunded, but it was irrational.
He said testimony from State Education Commissioner Andy Tompkins revealed that Kansas funded its schools without any regard or analysis of how much is needed.
"Instead, these billions of tax dollars are distributed annually by legislative fiat without any requests, estimates or other input costs or needs from the 'boots on the ground' superintendents, principals or teachers in the field," Bullock wrote.
Key dates in Kansas school finance history:Nov. 8, 1966: Voters approve a constitutional amendment establishing a 10-member State Board of Education having "general supervision" over public schools, with the Legislature required to "make suitable provision for finance of the educational interests of the state."Sept. 10, 1990: Officials with 31 school districts file a lawsuit challenging the legality of the state's school finance formula, saying they receive a disproportionate share of the funding for elementary and secondary education.Oct. 14, 1991: Shawnee County District Court Judge Terry Bullock issues a pretrial opinion finding that the state's school finance formula is unconstitutional.May 5, 1992: Legislators approve a new school finance formula, providing money on a per-pupil basis.Dec. 2, 1994: The Kansas Supreme Court upholds the constitutionality of the school finance formula.May 21, 1999: Administrators and parents of students in the Salina and Dodge City school districts file state and federal lawsuits, claiming that the finance formula is unconstitutional and violates the equal protection rights of minority and poor students.Nov. 21, 2001: Bullock dismisses the lawsuit.Jan. 24, 2003: The Kansas Supreme Court reverses Bullock's decision to dismiss the case, ordering a trial in Shawnee County District Court.Sept. 22-Oct. 1, and Nov. 25, 2003: Bullock hears testimony and closing arguments in the school finance lawsuit.Dec. 2, 2003: Bullock issues preliminary order saying the state school finance formula is unconstitutional, and he tells the Legislature and executive branch to fix the flaws.Jan. 12, 2004: Start of 2004 legislative session.July 1, 2004: Deadline imposed by Judge Bullock for fixing the school finance formula, and the start of the state's 2005 fiscal year.
The system produces disparities in funding that are monumental, the judge's order said.
For example, the Burlington school district had an assessed valuation per pupil of $461,051, while the Galena school district had an assessed valuation per pupil of $14,604. A mill levy in Burlington for a capital improvement would raise $461 per pupil while the same increase in Galena would raise only $14.60.
Achievement gap
Voters in wealthier districts also are more likely to approve increases in local capital outlay funds for schools than voters in poorer districts, he said.
The disparity in per-pupil allotments is more than 300 percent among some districts.
"The Legislature has not justified this enormous disparity with evidence of any rational basis," Bullock wrote.
The underfunding is most notable, Bullock said, in school districts with high percentages of minority students, and that fact has led to an achievement gap between white and minority students.
Bullock said the state's argument that disadvantaged students in Kansas were faring no worse than disadvantaged students elsewhere was the equivalent of saying, "Persons of color should be comforted by the fact that lynchings in Kansas are no more frequent than lynchings in many other states."
Bullock said that because of the constitutional issues at hand, the Legislature's intent when the finance formula was enacted in 1992 wasn't a consideration.
"This case involves the fundamental law of our land and this court has no discretion whatsoever in whether it will be enforced and preserved," he wrote. "There is no such thing as 'a little bit pregnant' and there is no such thing as 'slightly unconstitutional."'
Appeal promised
In the order, Bullock relied on a 2001 study by Denver consultants Augenblick & Myers that said the Legislature needed to spend $850 million more to fund a suitable education for Kansas students. With inflation, Bullock noted testimony that indicated the funding needed was an additional $1 billion. The Legislature commissioned the study.
State Sen. Mark Buhler, R-Lawrence, said Bullock's order would force lawmakers to focus on school funding but that he didn't know if the Legislature could produce $1 billion.
"I'm ready to go to work. We will have to sort out what choices we have," Buhler said.
Kerr said the order wasn't realistic.
"This judge is not the final authority on this or any other issue," he said.
Kline said the state would appeal. But because Bullock's decision was a "preliminary order," it wasn't clear whether the state could appeal until a final order was made.
Regardless of the litigation, Sebelius said she would propose a school-finance measure in January.
"The governor is committed to ensuring that all Kansas children have the best possible educational opportunities," Sebelius spokeswoman Nicole Corcoran said.
The lawsuit was filed in 1999 on behalf of parents and administrators in the Dodge City and Salina school districts. Bullock oversaw an eight-day trial in September.
Copyright 2018 The Lawrence Journal-World. All rights reserved. This material may not be published, broadcast, rewritten or redistributed. We strive to uphold our values for every story published.