Ray Bechard has led Kansas University's volleyball squad to a place it's never been -- the NCAA Tournament.
KU will take on Long Beach State Thursday in Malibu, Calif., in the tournament's first round.
But the success KU's program is enjoying this week might never have happened if Bechard hadn't left his comfort zone.
Actually, considering the success Bechard enjoyed while coach at Barton County Community College from 1985 to 1997, comfort zone might be an understatement.
"When I was little, all I knew was Barton County volleyball," said Bechard's daughter, Ashley, now a junior setter for the Jayhawks. "I didn't think volleyball existed anywhere else."
Thanks to Ray Bechard, that was the mindset of most people living in the Great Bend area.
His Barton teams played in 10 Final Fours during his 13 years at the junior college. Heck, the Cougars only lost three matches in the Jayhawk Western Conference as Bechard tallied an amazing 716 wins against only 60 losses. That's a 92.3 winning percentage, including a 34-4 mark against four-year schools.
Despite all the success -- which included a 126-match home-court winning streak, the longest in the nation at the time -- and Bechard ranking fourth all-time for juco wins, there was another challenge that awaited the Grinnell native: Kansas University.
"This was his dream job, so between us we knew that if it happened, we really wouldn't have to sit down and discuss it," said Bechard's wife, Pam. "We knew we were just going to go.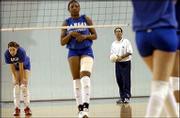 "We were just going to take the new adventure, go for the journey and go with it."
That journey has had rough spots. Coming into this season, Ray Bechard's best-ever with the Jayhawks (21-10 overall, 13-7 Big 12 Conference), he had been 82-70 in his first five years at KU.
The Jayhawks never posted a Big 12 finish above sixth place, and just a few years ago KU was playing home games in Robinson Gym.
"I think a big reason for our turnaround was the facility we're at now," said Bechard, whose team moved into the 16,500-square-foot Horejsi Center during the 1998-99 season.
The facility holds nearly 1,500 fans and has offered a permanent home to the Jayhawks.
"We've got a home we're really comfortable in and can relate to, that's a big part of it," Bechard said.
Bechard also has been helped by local talent. Eight of the 15 Jayhawks on this year's squad are from Kansas or Missouri.
"I remember when he was recruiting me he told me, 'I'm not going to promise you we're going to make it to the NCAA Tournament when you're there, but it's a hope,'" said Ashley Michaels, a Wathena native.
Thursday, that dream becomes reality for Bechard and his Jayhawks.
"Pam and I were walking today," Bechard said Sunday, when his team was selected for the 64-team tourney, "we were going through the history of the six years here and how many people thought, 'Oh you made a mistake, leaving a pretty safe-and-sound program and coming here.'
"Obviously, we knew it was going to be a lot of work. We wish this day would've come sooner, but it's here now and obviously we're thrilled."
Copyright 2017 The Lawrence Journal-World. All rights reserved. This material may not be published, broadcast, rewritten or redistributed. We strive to uphold our values for every story published.