Reciting the Pledge of Allegiance is as much a part of daily life in Lawrence elementary schools as taking recess.
But that's not the case at junior high schools and high schools, and some Lawrence military veterans don't think it makes sense to stop making the daily pledge just because a student reaches seventh grade.
Sam Brubaker, who was in a U.S. Army tank division during World War II, said Monday that state law ought to be changed so that all public school students say the pledge daily.
"I think it should be. I really do," Brubaker said in an interview at headquarters of the Veterans of Foreign Wars Alford-Clarke Post No. 852 in Lawrence.
The Lawrence district's requirement that children in kindergarten through sixth grade say the pledge each day meets state law, said Rod Bieker, general counsel to the Kansas Department of Education.
He said the district's policy of freeing students in junior high schools and high schools from a pledge mandate also conformed to state statute.
"The Lawrence school district does meet guidelines," Bieker said.
In the Lawrence district, all 15 elementary schools schedule time each morning for the pledge. Several do it at school assemblies or in unison while led by a student over the intercom. Other schools allow the pledge to be handled separately on a class-by-class basis.
In the junior high schools, students at South recite the pledge each day. Southwest and West students recite it Mondays. Central leaves it up to classroom teachers.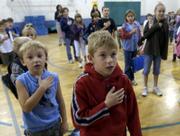 High schools in the district don't have a formal time for reciting the pledge.
Erv Hodges, a former Lawrence mayor and retired U.S. Marine Corps lieutenant colonel, said the Lawrence district was handling the issue properly.
"It lends itself to the elementary schools," said Hodges, who's served in Korea and Vietnam. "They have a classroom, and those kids are together every morning and all day."
"In high schools, and universities for that matter, I have no problem with it not being said," he said.
Don Dalquest, a U.S. Air Force veteran and past commander of the American Legion Dorsey-Liberty Post No. 14 in Lawrence, said there was no question that elementary students should continue to learn and recite the pledge.
"I think it's good to be taught the Pledge of Allegiance. I don't think you've got to say it every day as long as you live what the pledge means," he said.
Bieker said state law on the pledge changed years ago to delete a requirement that all students in all school buildings say the pledge daily.
"They took out, in each school. They put in, in each school district. That's a big leap," he said.
The department published guidelines two years ago saying that elementary school students were expected to recite the pledge each morning. Use of the pledge in junior high schools and high schools is neither required nor banned, he said.
Under Lawrence school district policy, any student can abstain from saying the pledge.
Copyright 2018 The Lawrence Journal-World. All rights reserved. This material may not be published, broadcast, rewritten or redistributed. We strive to uphold our values for every story published.